The Satanic Rites of Dracula
(1974)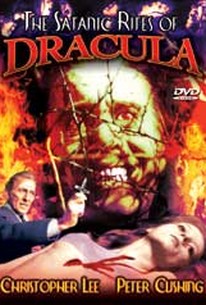 Movie Info
A descendent of Van Helsing who works for the British Secret Service must seek out a reincarnated Dracula.
Critic Reviews for The Satanic Rites of Dracula
Audience Reviews for The Satanic Rites of Dracula
aw Satanic Rites last night for the second time, and paid more attention this time. The film, if you`re waiting to see a lot of Dracula will be a bit of a let down (but let`s face it, since Taste the Blood of Dracula, I don`t think Christopher Lee has had 30 minutes screen time with all of the Dracula films joined together.) The movie starts slowly, with, for once, no Dracula resurrection scene. He`s just back, and does not appear until well into the film. (He appears in a scene obviously stuck in because they realized he had not made an appearance at all so long into the film). When Peter Cushing appears, you start to feel like this is a proper Hammer film after all. Peter Cushing really does this one justice. Then from the time he visits D.D.Denham, it is a pretty good Dracula picture. The action between our hero and villain gets going, and builds up to a reasonable finale. This is better than Dracula AD 1972, but as I have said before, the whole series should have stayed in Victorian times. Joanna Lumley is radiant as Jessica, who's character returns from the previous film. It is a pretty scary premise. Dracula, finally sick of being resurrected for 2 or 3 days at a time, wants to end it all, but in doing this, he wants to take everyone with him. THE WHOLE WORLD! It is a good plot which just happens to have Dracula as the figure-head. For once Christopher Lee gets a reasonably decent script and delivers his lines beautifully. A couple of points. In some of the Dracula films, we are introduced to new but apparently tested ways of dealing with the fanged one. Dracula, Prince of Darkness introduced clear running water, as used at the end of DPOD, in Dracula AD 1972, and in Satanic Rites. Then in AD `72 we are introduced to the fact that the good Count can be knobbled with a silver bladed knife. Handy, since Van Helsing has one. Then in this movie, Van Helsing introduces the Hawthorn bush, from which Christ recieved his crown of thorns. Guess where Drac ends up near the end? Do these things really work? Or is it just that sunlight and the old stake are boring now, and the writers just make these things up? I feel a bit cheated when someone like Dracula can be beaten by lightning, drowned in a moat (NOT running water), or overcome in a church (whereas he had already killed a girl and placed her body in a full blown God worshipping church.) This film, when it gets going, is a pleasing finale to the Christopher Lee years as Dracula, and to boot, Peter Cushing delivers a really good performance too.
Cassandra Maples
Super Reviewer
This is probably the worst vampire movie of the 70s, I mean, Dracula has some crazy plot to take over the world? That doesn't make sense. The story and actors are bad, and I didn't like this movie at all.
½
Lorrimer Van Helsing (Peter Cushing) traces an outbreak of vampirism in a grand country house to an international conglomerate run by Count Dracula (Christopher Lee), who plans to unleash a hideous plague upon mankind. Picking up the plot where "Dracula A.D. 1972" (1972) left off, Alan Gibson's entertaining potboiler closes the book on Hammer's most profitable franchise, though it's a far cry from the dignity and elegance of Terence Fisher's "Dracula" (1958). Dominated, as always, by Cushing's steely resolve in the role which defined his career, and Lee's majestic portrait of the fiendish Count (still the best cinematic interpretation of Bram Stoker's creation bar none), the film posits an audacious - though unlikely - scenario in which Dracula plots to end his own reign of terror by destroying mankind, using hapless mortal disciples to do his dirty work. Don Houghton's busy script mixes intrigue and espionage (Cushing only becomes involved after being tapped by MI5 for his knowledge of occult practices, following their investigation of several high-ranking Establishment figures who have fallen prey to Dracula's influence) with traditional elements of Gothic horror (such as a country house with a cellarful of vampires), and Gibson plots a course through proceedings with ruthless efficiency. Less 'modish' than its immediate predecessor, the movie nevertheless shoehorns some gratuitous female nudity into a black mass sequence which is referenced time and again during the first half of the film. The supporting cast includes William Franklyn, Michael Coles, Joanna Lumley (as Cushing's granddaughter), and Freddie Jones as a terrified scientist forced by Dracula to create a new strain of bubonic plague. First released in the US in slightly edited form as "Count Dracula and His Vampire Bride", though why anyone should think that was a better title than the original is a complete mystery. This movie is fun for fans and worth watching to see Lee and Cushing together for the last time in a Dracula film.
David Ladd
Super Reviewer
The Satanic Rites of Dracula Quotes
There are no approved quotes yet for this movie.