The Ritz
(1976)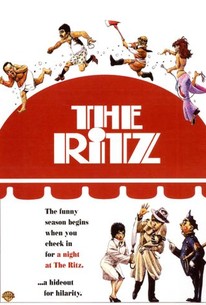 Movie Info
With The Ritz, Terrence McNally's hit Broadway play of the same name is cinematized by director Richard Lester. Jack Weston plays Gaetano Proclo, a minor mob flunky who's been targeted for elimination by his brother-in-law, Carmine Vespucci (Jerry Stiller). Gaetano takes refuge in what he thinks is a Turkish bath. Actually, it's The Pits. That's the name, "The Pits" -- a gay bathhouse (this is the pre-AIDS era), where the exquisitely awful Googie Gomez (Rita Moreno) entertains the homosexual patrons with her ear-splitting renditions of such show tunes as "Everything's Coming Up Roses." Hoping to save his neck by pretending to be gay, Gaetano effusively praises Googie. Assuming that he is a big-time Broadway producer, she plays up to him. Everything would be hunky-dory, except that the bathhouse is owned by the very mob that has put a contract on Gaetano. What follows is an old-fashioned door-slamming farce, except that there are no doors to slam. The supporting cast includes Kaye Ballard, Treat Williams, George Coulouris, F. Murray Abraham, Dave King, and (as one of the patrons) a pre-Cheers John Ratzenberger.
Critic Reviews for The Ritz
Audience Reviews for The Ritz
½
On the run from his murderous brother-in-law Carmine(Jerry Stiller), Gaetano(Jack Weston) seeks refuge in the last place he would look for him, a gay bath house where Googie(Rita Moreno, fabulous in a scenery chewing performance) is singing that night. Abe(Dave King) at the front desk takes pity on Gaetano and cashes his check, thus allowing him entrance and to pay his cab driver. Now, all Gaetano has to do is stay one step ahead of Claude(Paul B. Price) who has a thing for plus-sized men. "The Ritz" is a silly, silly movie. If your idea of comedy like mine is Treat Williams speaking with a high squeaky voice, then you will certainly find this movie funny.(This is apparently not only Williams' first big movie role but also F. Murray Abraham's. And John Ratzenberger is around here somewhere.) While considering how far gay rights have come since this movie was made in 1976, this was also ironically a celebration of a more innocent era where before AIDS one could even joke about STD's, with the Ronald Reagan reference being eerily prescient. And I had always imagined bath houses as being dingy dives...
A very funny comedy movie, with a great story and good actors. I really liked it.
Very much a time capsule of a bygone era, everybody is enjoyably over the top but any time Rita Moreno shows up she blows everyone else off the screen in a performance of such reckless, hilarious abandon its a joy to behold.
The Ritz Quotes
There are no approved quotes yet for this movie.