River of No Return
(1954)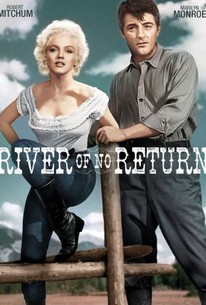 River of No Return Photos
Movie Info
Director Otto Preminger's only western, River of No Return is set in Canada during the 19th century Gold Rush. Farmer Matt Calder (Robert Mitchum) is released from prison after serving a sentence for shooting a man in the back to protect a friend. He arrives in a small town to retrieve his young son, Mark (Tommy Rettig), who has befriended a sultry saloon singer, Kay (Marilyn Monroe). Matt is also friendly with Kay, and thanks her profusely for looking after Mark, but distrusts her paramour, Harry Weston (Rory Calhoun)- a gambler with the morals of an alley cat. Matt and Mark return to their rural homestead, but soon glimpse Kay and Harry on a sinking raft, apparently en route to make good on a gold claim; Matt rescues the two of them, but doesn't count on Harry doing an about face, beating him up, and stealing his horse and gun; Kay stays behind to look after Matt. Meanwhile, the Indians go on the warpath, and the defenseless trio decides to seek refuge by fleeing the farm and sailing down the river on a raft. En route, the son - thanks to Kay's doing - is unexpectedly disillusioned about the father's original crime. Moreover, as Matt approaches town, he begins to plot a decisive revenge against Harry. ~ Hal Erickson, Rovi
Critic Reviews for River of No Return
Audience Reviews for River of No Return
Its not the greatest adventure Western ever made, or does even much of it make sense, but there's few that have as much charisma as Mitchum and Marilyn all wet on a raft in CinemaScope. First off, Marilyn gets to vamp a coupla tunes for the boys in the backroom, and then its out into the great wide Canadian open. Its fun.
Kevin M. Williams
Super Reviewer
A western. A Marilyn Monroe flick. Of course I had to see this. And it was just as bad as I was expecting. Now I usually don't demerit a film for bad "special effects" but this was a little absurd. I mean, was I ever supposed to believe Marilyn was on that raft? I don't see how. Awful. And when the Native American comes on the raft only to rip Marilyn's shirt as she screams helplessly. OMFG. Let's get real here people.
Jennifer D
Super Reviewer
marilyn didn't want to make this which explains her sometime stiff performance but when she sings she's luminous and her interaction with robert mitchum and tommy rettig is good. the cinematography is beautiful, make sure to watch it in widescreen.
River of No Return Quotes
There are no approved quotes yet for this movie.