The River Wild
(1994)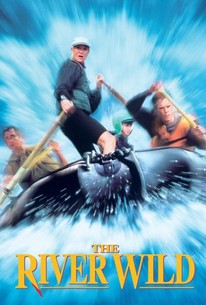 Movie Info
This thriller filmed on location in Oregon and Montana, features Meryl Streep as a daring, strong mother who must navigate a raging river to save the lives of her husband and son. Streep performed 90% of the river stunts in the film. To celebrate her son's tenth birthday, Gail, a former white water guide, takes him and his dog out West for a rafting trip. Her work-a-holic husband Tom joins them at the last moment. Gail was raised on the river and knows it intimately. They meet three "fishermen" who seem inordinately interested in Gail's knowledge of the river. In reality, the men are on the lam after robbing a cattle auction and killing two men. They are hoping to run the river past the treacherous white water stretch, the Gauntlet, and escape. The are led by the charismatic gun-toting Wade who eventually, hijacks the family. After dumping Tom and the dog upon the shore he coerces Gail to attempt the dreaded Gauntlet, which Gail has only run once before, by holding a gun to her son's head. The tension mounts as the spectacular rapids approach. Will they make it?
Critic Reviews for The River Wild
Audience Reviews for The River Wild
½
I really dig this flick. It's good to see Streep doing something this fun and Bacon makes a great villain. I've seen it at least 15 times and I never get tired of watching it.
Jason Spencer
Super Reviewer
½
Thriller about robbers who kidnap a family to help him escape down river. Good cast.
Candy Rose
Super Reviewer
Exciting, but not rewatchable
Jim Careter
Super Reviewer
The River Wild Quotes
There are no approved quotes yet for this movie.