River's Edge
(1987)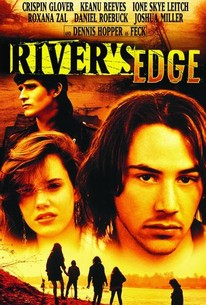 TOMATOMETER
AUDIENCE SCORE
Critic Consensus: A harrowing tale of aimless youth, River's Edge generates considerable tension and urgency thanks to strong performances from a stellar cast that includes Crispin Glover, Keanu Reeves, and Ione Skye.
Movie Info
Based on a true story, a group of apathetic high school students learn that a friend has killed his girlfriend, and after they are shown the body, decline to inform the police.
Critic Reviews for River's Edge
Audience Reviews for River's Edge
½
If there is genius to be found here it is most certainly in the casting of off-center actors (i.e. Crispin Glover and Dennis Hopper) to play off-center characters. Creepy and dark in a light-hearted '80s sort of way.
Randy Tippy
Super Reviewer
A high schooler kills his girlfriend, and his friends have varied reactions, some attempting to help him escape, others apathetic, and others telling the police. I've read the many reviews that describe this film as an exploration of the then-contemporary distance between action and morality and stimulus and morality, but this theme isn't explored; it's shown in the characters' actions then interpreted for us by the one of the adult characters. And how can Crispin Glover's performance be called anything except over-acting at its worse. Glover's characteristic dorky, halting delivery is accentuated to the nth degree, and Layne is so ridiculous that it is unbelievable that even John would hang out with him. What's worse, because Canoehead hasn't an original, creative bone in his body, he picks up Glover's mannerisms, and the scenes between Layne and Matt become so obnoxiously entrenched in a cliched surfer culture that I felt myself get stupider. In the story, there is no suspense or mystery. We know early on who tells the cops, and though it's structured like In Cold Blood, where the gory details of the murder provide the story's climax, by the time the killer's reasons are revealed, I had already lost interest. Overall, there are people who see profundity in River's Edge, but I'm not one of them.
Jim Hunter
Super Reviewer
½
An over-acted but nonetheless arresting study in blind loyalty concerning a small town and its younger inhabitants (Crispin Glover, Keanu Reeves, among others), and how their social circle is rocked by the inexplicable murder by one of their friends after he kills his girlfriend, and doesn't appear to be showing any remorse for it nor concern for what lies ahead for him. While, as said, the acting gets a little too dramatic at times, the performances are still undeniably effective, notably Glover, who uses a grating, whiny voice that is the perfect foil to his wannabe "leader" character. Reeves is equally impressive because, well, he just really seems to naturally get his character, even if some "Woah dude!" moments creep in once in a while. Unlike "Bully", another film that dealt with a murder amongst a group of friends and how they dealt with it, director Tim Hunter never indulges himself in gratuitous nudity, and he actually makes you feel for one or two of his characters (Dennis Hopper's is especially tragic), which is very important to the overall success and impact this story aims to have. It isn't a masterpiece, or even a "great" movie, but it is a solid one, and one that deserves a view based on the sad fact that this story is based on real events that took place in the early 80's.
Dan Schultz
Super Reviewer
River's Edge Quotes
| | |
| --- | --- |
| Samson "John" Tollette: | She was dead there in front of me and I felt so fucking ALIVE!........Funny thing is, I'm dead now. |
| Samson "John" Tollette: | She was dead there in front of me and I felt so fucking ALIVE! Funny thing is, I'm dead now. |
| | |
| --- | --- |
| Jim: | Look, you're the mother here. I didn't give birth to the monsters. |
| | |
| --- | --- |
| Feck: | I mean, you kill a person, they don't let you forget it. They stick after you like ghosts. They don't believe you when you say you're sorry. They want you to pay somehow. |
| | |
| --- | --- |
| Layne: | "Thanks for the weed!!!" |
| Layne: | Thanks for the weed! |