RKO 281
(1999)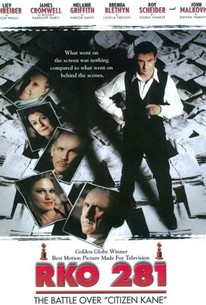 Movie Info
When RKO Pictures began work on production number 281, no one could have imagined that they were making perhaps the greatest American film of all time. But the moment Orson Welles (played by Liev Schreiber) announced that he intended to make a film based on the life of tyranical multi-millionaire publisher William Randolph Hearst (James Cromwell), they knew that they had trouble on their hands. Welles, the enfant terrible of American theater and a household name thanks to his infamous radio adaptation of H.G. Wells's "+The War Of The Worlds," was signed to direct films for RKO, and he was given an unusually free hand to make whatever sort of film he wanted. But what Welles didn't count on was the power of Hearst to keep his film from being seen. RKO 281 is based on the true story of the making of Citizen Kane and the war of words between Welles and Hearst. It also stars Melanie Griffith as Hearst's mistress Marion Davies, John Malkovich as screenwriter Herman Mankiewicz, Brenda Blethyn as Hearst's movie columnist Louella Parsons, and Roy Scheider as George Schaefer.
Critic Reviews for RKO 281
Audience Reviews for RKO 281
Schrieber brings Orson Welles to life with a fantastic performance telling the story of making "Citizen Cane". There's much more drama and humor to it than I expected. Like the recent "Trumbo" film, this is a work best enjoyed by Hollywood history fans and cinema geeks.
Christian C
Super Reviewer
½
Having watched this directly after first experiencing Citizen Kane, I found RKO to be insightful, informative, and rewarding. Liev Schreiber was great as Orson Wells, as was John Malkovich. The film had its limitations, it was only focused on the creation of, and aftermath of, Citizen Kane; I wish it had been more expansive in its look at Welles. The depiction of Hearst also felt inadequate, but it was passable considering the short running time. That said, what time the film did spend on both characters was effective. Overall a good film, and definitely a good companion piece to Citizen Kane. 3.5/5 Stars
Jeffrey Meyers
Super Reviewer
Another great HBO independent film.
Sean Gillespie
Super Reviewer
RKO 281 Quotes
There are no approved quotes yet for this movie.