Road Games
(1981)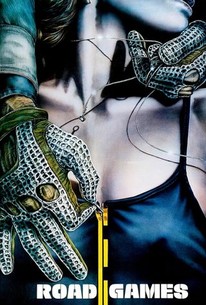 Movie Info
In this Australian film, Stacy Keach is a truck driver who takes the law in his own hands to capture a serial killer. Taking to the road in his search, Keach picks up hitchhiker Jamie Lee Curtis -- and it is her presence that brings the killer out of hiding.
Critic Reviews for Road Games
Audience Reviews for Road Games
½
What should be a seedy, lurid sleeper is sabotaged by two fatal flaws: a folksy drum-roll-and-harmonica score that makes it sounds like an upbeat sitcom and the overlying murder plotline is incidentally jettisoned to the sidelines for a downy, mawkish romance between Quid and Hitch. This cult classic is truly a monumental disappointment for director Frankin who surpassed Hitchcock with his magnificently heart-pumping and clever 'Psycho II'. In a vain effort to awaken the audience from their slumber, Franklin employs the creatively bankrupt use of loud jump scares with the whooshing sounds of traffic careening by. It is a very transparent ploy that Quid, who is ranting and raving about the killer's motivation and methodology to every passenger, is considered a suspect. Keach is adequate as Quid who is voyeuristic to a fault and his rapport with his dog is amusing in short spurts but Quid is too unhinged and frank to really engage our empathy. in one of his many idiotic decisions, Quid filibusters to complete strangers about strewing body parts throughout the desert wasteland. 'Road Games' is a weightless, derivative Hitchcock knockoff that doesn't generate spiky suspense insofar as the mystery aspect is a nonstarter and the protagonist is a lobotomized pawn for the killer.
Cory Taylor
Super Reviewer
Road movies are really interesting in terms of generating effective scares and there is something about the open road that evokes a true sense of helplessness in the viewer. Richard Franklin delivers a real chiller that is a unique viewing experience. This film mixes various genres into one picture, and is a tense experience from start to finish. This is a well executed horror tale that relies on old fashioned suspense to increase the feel of dread in the viewer. The result is a pulse pounding memorable picture that is among the better films in the genre. The cast do a great job in their roles, and I really enjoyed Stacy Keach as Pat Quid the lone trucker who picks up hitchhiker Jamie Lee Curtis. What ensues is a horrifying cat and mouse game. Quid gets suspected of the disappearance of a hitchhiker who was murdered by the man who is terrorizing Quid. Keach and Curtis have great on-screen chemistry and they both work very well together. Road games is a very good psychological horror thriller that is a must see movie for genre fans. The film has some Hitchcock overtones and echoes Spielberg's Duel in a way. This is a very entertaining movie that is underrated and deserves to be rediscovered by fans of the genre. Director Richard Franklin who also directed Psycho II and Patrick directs this accomplished road horror movie and does a great job at delivering constant shocks in the viewer. A film like this proves that you only need the basics to create the ultimate in horror and this one rivals many modern genre films as a far superior outing due to the fact that it uses old school ideas to create tension on-screen.
Richard Franklin, the same aussie who took over the fairly decent sequel of Psycho, Attempts to rehash 'Rear Window' as a road movie, bringing to mind another even more brilliant hitchcockian exercise, Steven Spielberg's Duel, which had a simpler but even more intense outcome. Franklin's narrative pulse is stylish, and careful in execution, but If the plot was tighter, without losing its north/credibility -especially around the finale- the film would had been a lot better. Underrated Stacy Keach brings a lot of charisma and bravado to his part.
Pierluigi Puccini
Super Reviewer
Road Games Quotes
There are no approved quotes yet for this movie.