Road to Bali
(1952)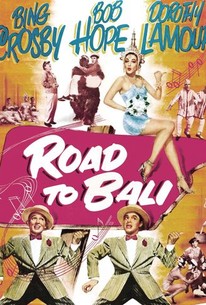 Movie Info
The sixth of the "Road" series of films featuring Bob Hope and Bing Crosby, this film is loaded with guest stars. The two guys both fall for lovely Dorothy Lamour in this frolicking story, which finds them trying their hand at deep-sea diving, fighting cannibals, and dodging Amazonian women.
Critic Reviews for Road to Bali
Audience Reviews for Road to Bali
½
Hoo-boy! The boys are on their last legs in this effort to kick the mule to get another mile out of it, only the poor animal is just about dead. Game and spirited kicking almost give the illusion that animal is moving ... but its not. The only reason to take this trip (as Paramount well understood) was the charisma of its leads, but there's really nothing here for you.
Kevin M. Williams
Super Reviewer
The hapless duo go diving for sunken treasure in the South Pacific, which leaves ample scope for jokes about amorous gorillas, rubber giant squids and a wealth of glamorous island maidens. By this time, the Road movies had settled into a production line comfort zone, and the flat direction which lacks the necessary pizazz of the great musicals combined with the deeply unconvincing sound stage bound locations means that Bali relies entirely on the amiability of its stars. But let's face it, these old pros were never going to disappoint. The stream of Vaudevillian skits and songs are very familiar to anyone who knows the series and Hope and Crosby's usual backstabbing and bickering is just as fun as always. It's a bit like watching an extended sketch from a Morecambe And Wise Christmas Special in that the knockabout charm of its stars outweighs the quality of the gags to the point where you can't help laughing at even the weakest of jokes; the groans are just as amusing as the chuckles! Very old school, but still fun.
This should have been the last "Road" movie, it's a lot better than road to hong kong. I really liked this movie it's very funny and the story is good.
Road to Bali Quotes
There are no approved quotes yet for this movie.