The Road To Guantanamo
(2006)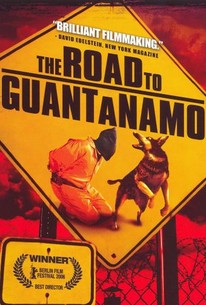 TOMATOMETER
AUDIENCE SCORE
Critic Consensus: A gut-wrenching and riveting docu-drama that serves as a stinging indictment of U.S. military justice in an era of ever-increasing scrutiny.
The Road To Guantanamo Photos
Movie Info
Michael Winterbottom combines fact and fiction in "The Road to Guantanamo" recounting the story of the Muslim men from Britain now known as the Tipton Three. In 2001 they set off for a wedding in Pakistan, took a side trip to Afghanistan and were captured by the Northern Alliance, held at an American military camp and later shipped to Guantanamo. They remained imprisoned there for two years, until evidence emerged that they were still in Britain at the time they were accused of having been at a rally with Osama bin Laden.
News & Interviews for The Road To Guantanamo
Critic Reviews for The Road To Guantanamo
Audience Reviews for The Road To Guantanamo
Americans need to wake up as to what we are doing in the name of protecting ourselves from terrorist!! Are we becoming terrorist ourselves?
Thomas Johnston
Super Reviewer
Brilliant retelling of what happened to three brothers that were captured on their way to a wedding and subsequently sent to Guantanamo Bay. Chilling and effective, this film is a stunning drama with documentary elements. This is a well constructed film that exposes the conditions of Guantanamo Bay. Brilliant, sad and eye opening this is a film that exposes the condition of the infamous prison. This is a disturbing film that should be seen to be believed. Brilliant and provoking, The Road to Guantanamo is one terrific documentary that makes you ask important questions. This is a disturbing film that shows the harsh realities of what happened to three detainees in Guantanamo Bay. Provoking and it does a great job at re-enacting the ordeal of the three men that were falsely imprisoned, this is a must see film for anyone looking for a haunting, thrilling and memorable documentary to watch. I really enjoyed the film and thought it was very insightful. Though this is a re inactment, I found the film to be nonetheless disturbing and quite the unique viewing experience. If you're looking for a solid documentary to watch, give this film a shot. As far as documentaries are concerned, Road to Guantanamo Bay delivers. The film has a take no prisoners' attitude that gives the real deal of what really goes on behind the walls at Guantanamo. Brilliant, provocative and shocking, this is a well crafted documentary film.
Shafiq: My name's Shafiq Rasul, and I'm from Tipton, I tell them I ain't Taliban, but they don't wanna listen. You won't believe I just came out here, for my mate's wedding, do you? I never thought my ass, would be heading for Cuba.  The Road to Guantanamo is a disturbing and very well made docudrama about three friends from England who were imprisoned in Guantanamo. The film uses interviews with the actual people, along with new footage and reenactments of the events that took place. The movie is both sad and terrifying. To think about what those three went through and also about the others who had been wrongfully imprisoned there that we don't know about. Michael Winterbottom is an amazing director. This is up there with my favorite movie from him; A Mighty Heart. The way he weaves both the actual interviews and the reenactments together is great. The cast is actually pretty good. They make the situations and characters they are reenacting believable. This isn't a movie that you want to watch, but one that you need to watch. It's an important and well-made piece of filmmaking about The Tipton Three and the injustice they received at the hands of the United States Military.
Melvin White
Super Reviewer
The Road To Guantanamo Quotes
There are no approved quotes yet for this movie.