Road to Paloma
(2014)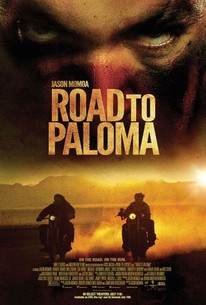 Movie Info
Jason Momoa of "Game of Thrones" and "The Red Road" makes his directorial debut and stars in this intense road movie as Wolf, a Native American on the run after avenging his mother's murder. As he flees across the desolate American West on his motorcycle, he'll discover that justice has a cost - Wolf's search for redemption will reveal secrets and take him on a journey where the roads have some very unexpected turns. (c) Official Site
News & Interviews for Road to Paloma
Critic Reviews for Road to Paloma
Audience Reviews for Road to Paloma
One man, one bike, and a potential for some serious butt-kickery in the desert, so this is pretty much the closes we're going to get to "Mad Max: Fury [u]Road[/u]" for a while. Man, Redskins are brutal enough with horses and arrows, but if you put them on a motorcycle, then you've got the definitive bad 'Merican! More than it is for Americans, especially the Native ones, this film seems to be built for those bikers who have "MOM" tattooed on their arm, because this film explains to you why you never talk trash about a biker's mama, let alone kill her. No, really, this film is pretty much for any dude worth his salt, because we're talking about Conan the Barbarian/Khal Drogo on a motorcycle, so you know that this is going to be quite the killer adventure. ...Mind you, Jason Momoa once went on an adventure to Tibet and ended up studying Buddhism, but this time, again, he's working to avenge his mama, and by that, I mean he had already exacted the vengeance, and is now spending this whole movie driving around with some cat who looks like a combination of Jared Leto and T. J. Miller. This is more of an artistic endeavor for him, but there's been enough people questioning his acting ability, and here, he has guts to take on this project as lead actor, director, co-producer, co-writer... score composer, cinematographer, editor, art director, makeup designer, casting director, and caterer. Okay, he isn't quite Shane Carruth, although this film, I'm afraid to say, isn't substantially more exciting than "Upstream Color", despite some inspiration. This film is largely pretty quiet, but when it does utilize musicality, it utilizes a decent and somewhat diverse soundtrack that is particularly distinguished by both old-fashioned and pseudo-modernist blues, rock and folksy tastes that help in livening things up, just as an ambient score by Ohad Benchetrit and Justin Small, both of the Canadian experimental and post-rock band Do Make Say Think, captures the subtly gritty tastes of this surprisingly artsy affair. Compliments of this nature can also be directed towards co-producer and co-editor Brian Andrew Mendoza's cinematography, which doesn't have the money to be especially handsome, but has enough subtle grace to its emphasis on lighting to give the film a refreshing look, highlighted by golden hour shots that are often haunting, if overused. It gets to where this film seems to be more interested in its visual style than the substance, and yet, as misguided as the storytelling is, the subject matter that Jason Momoa tackles so messily is intriguing in concept, with elements of buddy road adventure and crime drama that carry some potential for depth as a character study. The storytelling is even misguided with its characterization, yet there is some hope for resonance, and it rests within a cast full of reasonably convincing performances, even one by Momoa, who doesn't do much, but brings his charisma to light enough to expose some potential as an actor. He even finds moments to showcase potential as a filmmaker, because even though his direction is uneven, even in his level of investment in the story he's telling, he has some inspired moments whose having worthy style and performers to work with result in distinct moments of resonance, no matter, how limited. At the very least, Momoa's direction boasts an ambition that is pretty charming, and although Momoa betrays this ambition too often than a decent film can handle, its occasions of fulfillment meet the charm and all but save the final product. Alas, the film cannot transcend mediocrity, having its moments, but just that: moments which go outweighed by missteps and even conventions. I can see where this film might be able to change up pace, but as a drama about some sort of road to redemption, this isn't really much of anything new, following the usual beat and path, and having the nerve to do so rather limply. From filler to gratuitous, maybe even self-indulgent road and sunset shots, there's a whole lot of nothing going on in this film, until the film loses a sense of progression that is not exactly helped when the narrative actually makes a shifts, or rather, jars. You can feel that Jason Momoa is not interested in the whole of this chase drama, for his storytelling awkwardly cuts between the lead and the people on his tail, due to its wasting so much time on the segments, or simply on expendable material, while neglecting to flesh out the depths of this potentially layered plot. With all my complaints about the dragging, the film is still extremely short, and it gets to be that way, despite all of its filler, at the expense of substance, specifically that of an expository nature, to where immediate background development is disregarded, while gradual exposition feels forced in the context of thin characterization. You don't really get that much feeling for the characters through all of the draggy intimacy, in spite of all of the worthy performances, and that's because the excess is all primarily for the sake of some sort of style. Momoa can't even keep consistent with that, jarringly alternating between delicately paced traditionalist storytelling and borderline abstract lyricism, which is questionably enough by its own right, because of its further retarding momentum, especially when backed by a quiet dryness that is initially bland, but gradually descends into dullness which takes over a good deal of the film, and ultimately extinguishes your investment. Although the film never soars, it rises and falls, and on the back of its latter acts, alone, it goes deep into the brink of genuine decency, but those subtle, if not glaring errors in storytelling end up going quite a distance in betraying a sense of adventure, a sense of intimacy, and, of course, the overall engagement value of this ambitious, but misguided drama just enough for the final product to succumb to mediocrity. When the trail runs almost as dry as the film itself, a decent soundtrack, handsome visual style, promising story concept, and highlights in convincing acting and thoughtful direction all but save the final product from a mediocrity that unfortunately thrives enough on conventions, aimlessness, unevenness, underdevelopments, and an inconsistent and often dull style to drive "Road to Paloma" just shy of decent as a misfire of an ambitious road drama. 2.25/5 - Mediocre
Cameron Johnson
Super Reviewer
This drama thriller is directed, produced, co-written by and starring Jason Momoa ( co-writers Jonathan Hirschbein & Robert Homer Mollohan). What a guy! You probably know him... Joseph Jason Namakaeha Momoa is an actor, model, director, writer, and producer now, but before this movie he was known for his role as Ronon Dex (2005-09) on Stargate: Atlantis (2004-09) and as Khal Drogo in the HBO fantasy television series Game of Thrones (2011). I know him as Conan from Conan the Barbarian (2011). In this directorial debut his co-star is his wife Lisa Bonet and his co-writer Robert Homer Mollohan as well as Sarah Shahi, Michael Raymond-James and Wes Studi. The story is straight forward - after his mother is murdered, Wolf (Jason Momoa), a Native American, seeks vengeance and then flees from the law across the country with a friend. He visits his sister to collect his mother's ashes with an intention to spread them across his mother's favourite lake. But the FBI agent is catching up with him fast! It is like a kind of Native American Easy Rider theme, which addresses the racial injustice in the today's American society. Charismatic characters could not add to the dramatics of the story, and the anger was never portrayed convincingly. If you like moody atmospherics and very strong visuals this could be a perfect movie for you, but only if you can ignore some gaps in the storytelling which needed more attention to details and development of the characters and situations.
Road to Paloma Quotes
There are no approved quotes yet for this movie.