Road to Utopia
(1945)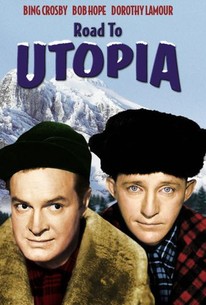 Movie Info
The first "Road" picture in three years (the last was The Road to Morocco), Road to Utopia is set during the Alaskan gold rush. Bob Hope and Bing Crosby play a pair of third-rate San Francisco entertainers, Chester Hooton and Duke Johnson, who are obliged to skip town in a hurry. They book passage on a ship to Alaska, where they run afoul of escaped murderers Sperry (Robert H. Barrat) and McGurk (Nestor Paiva). Through a fluke, Chester and Duke overpower the killers, then get off the ship in Skagway disguised as Sperry and McGurk so that they themselves can evade the authorities. The boys can't understand why everyone is so afraid of them, nor why saloon owner Ace Larson (Douglas Dumbrille) and Larson's moll Kate (Hillary Brooke) are so chummy. It turns out that Sperry and McGurk had stolen a deed to a valuable gold mine before escaping to Alaska. Sal Van Hoyden (Dorothy Lamour) is the rightful owner of that deed, thus she too shows up in Skagway, hoping to extract the document from Chester and Duke. Whenever the plot threatens to become too difficult to follow, narrator Robert Benchley shows up to explain things -- which of course only adds to the confusion. At any rate, the whole affair ends up with Chester, Duke, and Sal running through the snowy wastes, with the villains in hot pursuit. Duke nobly stays behind to fight off the bad guys himself, handing the deed to Chester and Sal and wishing them Godspeed. Flash-forward to 1945: Chester and Sal, both old and wealthy, are reunited with their equally aged pal Duke, who wasn't killed after all. Sal tells Duke that Chester has been a wonderful husband and father. Yes, father...and wait till you see who plays their child ("We adopted him!").
Critic Reviews for Road to Utopia
All Critics (6) | Fresh (6) | Rotten (0) | DVD (1)
My choice as the funniest of Hope and Crosby's Road pictures. It is definitely the zaniest.
December 23, 2006 | Rating: 5/5
Bing and Bob off on another road, in the fourth -- and many say funniest -- of their famous 'Road' series. If nothing else, it may be their wildest.
Audience Reviews for Road to Utopia
½
My first Hope and Crosby Road picture. Robert Benchley was funny as the narrator. Crosby and Hope were both charming as expected. They are vaudeville showmen who come across an Alaskan gold rush map and head off to make a fortune with thugs on their heels. They compete for the affections of Dorothy Lamour who may be working for a gangster who is after the gold. Some good laughs. Not as many musical numbers as I expected (or as catchy). It was interesting the way Bob Hope broke the forth wall to comment to the audience, sometimes even admitting that the jokes weren't that great.
Byron Brubaker
Super Reviewer
½
This is my absolute favourite of the Road series, it was the second I saw (I've seen them all now.), and it's the funniest if you ask me.
½
One of the best of the Crosby/Hope road movies. Very funny.
Anthony Valletta
Super Reviewer
Road to Utopia Quotes
There are no approved quotes yet for this movie.