Road to Zanzibar
(1941)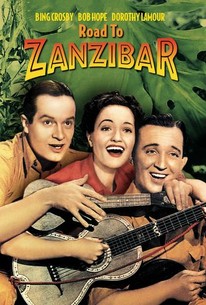 Movie Info
The second Bing Crosby/Bob Hope "Road" picture casts Crosby as a penny-ante sideshow promoter and Hope as Crosby's only client, "Fearless Frazier." Under Crosby's tutelage, Hope has been shot from a cannon, zapped in an electric chair and nearly strangled by an octopus. Now they're practically broke and stranded on the African coast. Crosby spends the last of their money to spring helpless Dorothy Lamour from a native slave market. Actually, Lamour and her pal Una Merkel are scamming Crosby and Hope to finance a safari across Africa, so that Lamour can link up with her wealthy fiance in Zanzibar. En route through the deepest, darkest jungle, both Hope and Crosby fall in love with Lamour. But when they find out they're being taken for chumps, the boys leave the safari and strike out on their own. Captured by cannibals, the boys try and fail to win their freedom by having Hope wrestle a particularly grumpy gorilla. Making their escape after teaching the natives their time-honored "Patty Cake" routine, they head for Zanzibar. Once again, Crosby spends his ready money to spring Lamour from her captured-by-slavers con game, obliging Hope, Crosby, Lamour and Merkel to try to earn passage money home by staging a "sawing the lady in half" routine for the locals. Crosby: "Are you sure you know what you're doing?" Hope: "If I don't, one of us is going back half fare." Like the earlier Road to Singapore, Road to Zanzibar sticks too closely to the script and plot to allow those inveterate adlibbers Hope and Crosby free reign. Still, there are some choice moments: our favorite bit occurs when Crosby comments to Lamour on the artificiality of movie musicals--whereupon the sound of an orchestra pops up out of nowhere.
Critic Reviews for Road to Zanzibar
Audience Reviews for Road to Zanzibar
The second "road" movie seems to meander around Africa somewhere, I don't know about you but I've never heard of Zanzibar, weather or not it's Zanzibar, we don't know. They use all the obvious jungle jokes, it has it's moments, but it's mostly a routine comedy.
Hope and Crosby continue their travels across the dark continent as a pair of con men who meet their match in the form of hustlers Dorothy Lamour and Joan Marsh. Zanzibar was the second Road movie and this is where the formula was set with far more of the duo's fast talking bickering and less of the musical interludes. Bob Hope is now the willing victim of Crosby's hair brained money making schemes and the pair have become the immoral, back stabbing cowards we know and love! Lamour is far feistier as a rival con artist rather than the doe-eyed innocent of the first film and Joan Marsh is a welcome addition to the team. The script is little more than a string of excuses for various skits and slapstick set pieces but the laughs flow much more freely than in Singapore. Dated (especially the painfully politically incorrect opening titles), but still funny.
½
One of the weaker Road movies, but still plenty of fun.
Anthony Valletta
Super Reviewer
Road to Zanzibar Quotes
There are no approved quotes yet for this movie.