Roadside Prophets
(1992)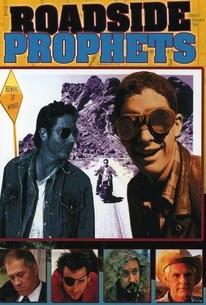 Movie Info
Screenwriter/electrician Abbe Wool makes her directorial debut with the offbeat road movie Roadside Prophets. Brooding factory worker Joe (X front man John Doe) takes a road trip in order to scatter the ashes of his co-worker Dave Coleman (David Anthony Marshall). Riding his vintage Harley Davidson, Joe leaves Los Angeles and heads for a small Nevada town called El Dorado to fulfill Dave's final wish. His journey is complicated by a small fry named Sam (the Beastie Boys' Adam Horovitz), a wannabe biker who continually lights off fireworks and nurtures an odd obsession with Motel 9. Joe also has to cope with making daily phone calls to Angie (voice of Sonna Chavez), his co-worker back in L.A. who is giving him sick days in exchange for the promise of a hot date. While traveling through the desert, Joe and Sam meet various eccentric characters played by the likes of David Carradine, John Cusack, Timothy Leary, and Arlo Guthrie. They eventually end up at their destination, which turns out to be a washed-up gambling town called Jackpot.
Critic Reviews for Roadside Prophets
All Critics (6) | Top Critics (1) | Fresh (5) | Rotten (1)
Tries its utmost to be weird and aimless; and if that's what rocks your boat, it ends up sort of hitting the jackpot for the chosen few.
It's easy to see why Roadside Prophets became an under-the-radar cult classic.
A failed, would-be cult item with funny cameos.
October 11, 2002 | Rating: 2/5
Audience Reviews for Roadside Prophets
½
While biking across the Nevada desert in search of a particular spot to cast a buddy's ashes, stoic factory worker Joe runs into annoying but decent youngster Sam. The carpe diem message would have worked better if their quirky mini-adventures had been a bit more interesting or added up to a whole greater than the parts, but the aimless neo-hippie idealism (witness cameos by Arlo Guthrie and Tim Leary) makes for a mildly pleasant ride.
Roadside Prophets Quotes
There are no approved quotes yet for this movie.