The Roaring Twenties
(1939)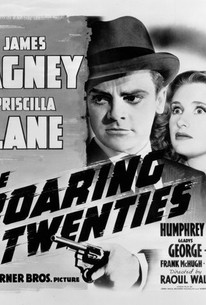 The Roaring Twenties Photos
Movie Info
A pair of World War I buddies become underworld kingpins.
Critic Reviews for The Roaring Twenties
Audience Reviews for The Roaring Twenties
The Roaring Twenties charts the rise and fall of prohibition racketeer James Cagney from the trenches of the great war to the stock market crash of 1929. It's amazing that only 8 short years separate The Roaring Twenties and the simplistic moralizing and two dimensional characterisation of The Public Enemy. It is probably the blueprint for the modern gangster movie and is the equivalent of the likes of The Godfather or Goodfellas for its time. Cagney is at his very best as the morally "grey" but inherently decent mobster who finds himself caught up in the booze hungry fervor of the prohibiton years after returning from fighting for his country as part of a forgotten generation, unable to find any other way to earn a living. Things take a sinister turn when he makes an uneasy partnership with a brilliant Humphrey Bogart who makes such a fantastic asshole you end up wishing he played the bad guy a bit more often. A rather bland Priscilla Lane aside the cast are all spot on, and with the addition of some energetic shoot outs and a brilliant climax when Cagney finally has it out with a sneering Bogie, all set in historical context of the America at the time, you have a timeless crime classic.
Not my favorite Cagney, Bogart or Walsh, but still a solid gangster flick.

Worth seeing for the historical narrative montages.
Ken Stachnik
Super Reviewer
This is a good movie about the 1920s, and a good gangster movie, with a good cast. I liked this movie.
The Roaring Twenties Quotes
| | |
| --- | --- |
| Eddie Bartlett: | He can't be more than fifteen. |
| George Hally: | He'll never be sixteen. (after shooting a young German soldier) |
| George Hally: | He'll never be sixteen. [after shooting a young German soldier] |
| | |
| --- | --- |
| Policeman: | What did he do? |
| Panama Smith: | He used to be a big shot. |