Robin and the Seven Hoods
(1964)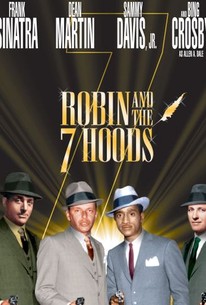 Robin and the Seven Hoods Photos
Movie Info
The Rat Pack packed it in after this sprightly musical comedy that owes more than it should to Damon Runyon's stories and Frank Loesser and Abe Burrows's classic musical Guys and Dolls. Sammy Cahn and Jimmy Van Heusen's bright and snappy score features such songs as "Style", "Bang-Bang" and the Sinatra standard "My Kind of Town". Set in 1920s Chicago, the tale begins during a birthday party for head mobster Big Jim (Edward G. Robinson) who is shot to death during the celebration. Rival gangster Guy Gisbourne (Peter Falk) immediately declares himself the chief gangster. The northside gang, headed by Robbo (Frank Sinatra) is willing to grant Guy his self-declared title as long as he leaves the northside territory alone. Guy refuses and when small time hood Little John (Dean Martin) joins Robbo's crew, turf warfare breaks out between the two gangs, resulting in the destruction of both Robbo and Guy's nightclubs. Meanwhile, Big Jim's daughter Marian (Barbara Rush) offers Robbo $50,000 to find the man who killed her father. Robbo demurs and gives the money to his henchman Will (Sammy Davis Jr.) to get rid of. Will, hoping to do a good deed, hands the money over to Allen A. Dale (Bing Crosby), who runs an orphanage. Allen, finding out that the money came from Robbo, informs the newspapers of Robbo's philanthropic enterprise and Robbo immediately becomes a local celebrity, referred to as Chicago's Robin Hood. For his part, Robbo is willing to go along with the publicity. On the romantic front, although Robbo is attracted to Marian, he gives her the brush-off when he finds she is using a charitable foundation as a front for a counterfeiting ring being run by herself and Little John. Robbo tells Marian to leave town. Instead, she hooks up with Guy, proposing that he kill both Robbo and Little John. ~ Paul Brenner, Rovi
News & Interviews for Robin and the Seven Hoods
Critic Reviews for Robin and the Seven Hoods
Audience Reviews for Robin and the Seven Hoods
one of the most fun films Ive ever seen. the music was great and the actors just looked like they had fun making this one. One of my favorites of all time.
A face-off between two Chicago prohibition mobsters at its core, the movie is soaked to the brim with the suave and verve of the sixties and the unforgettable rat pack. Excpect off-the-wall and someimes quite explicit one-liners when Dino & Co let their charm ooze of the screen. While some musical numbers feel very much pushed into place, as soon as the boys start singing in duets or triplets, old school magic happens and it is a delight to see numbers featuring Frank, Dean & Bing performing together. Peter Falk shows why he is severely underrated, especially when it comes to campy comedy. The female actrors make for a nice decoration, I guess that fits a movie by the Boys Club that was the late Rat Pack.
Henrik Schunk
Super Reviewer
½
Frank, Dean and Sammy in a wacky retelling of Robin Hood. Throw in Bing Crosby and Peter Faulk and have Nelson Riddle do all songs and musical arrangements, how could you not have a good time.
Keith Munley
Super Reviewer
Robin and the Seven Hoods Quotes
There are no approved quotes yet for this movie.