Robin-B-Hood
(2006)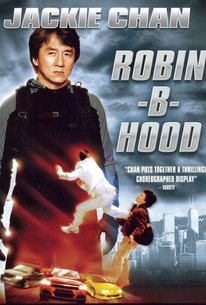 AUDIENCE SCORE
Critic Consensus: No consensus yet.
Movie Info
The Jackie Chan-headlined action farce Rob-B-Hood concerns Slipper (Chan), a character caught up in a hornet's nest of problems. Raised by poor parents and expelled from school at an early age, Slipper became notorious for his lightning-fast footwork and quick-fingered hijinks, but managed to tally up a massive amount of gambling debt. With no other choice, he accepted his crooked landlord's bid to participate in a series of crazy heists. They paired up with another shady character, Octopus (Louis Koo), and successfully kidnapped BB, a tycoon's grandson, but unforeseen complications led the trio to keep the baby longer than they had originally intended. Now, when the men learn that a triad intends to collect on some unpaid ransom and kill the child in the process, they decide to keep the baby indefinitely, as an unofficial "adopted son," and train him in the ways of burglary. They receive assistance, in this endeavor, from a teenage hanger-on, Pak Yin (Charlene Choi); a nurse named Melody (Gao Yuanyuan); and the landlord's missus, (Teresa Carpio). Suddenly, however, the rollers and the triads begin to close in, and the men must figure out a way to return the baby to his folks.
Critic Reviews for Robin-B-Hood
All Critics (3) | Top Critics (1) | Fresh (3) | Rotten (0) | DVD (1)
Mildly fun ride has none of the darkness of New Police Story, his previous pairing with helmer Benny Chan, instead banking on Jackie's tried-and-true comic charm in a standard baby kidnapping farce enlivened by just enough action sequences...
There's good buddy chemistry between Koo and Chan, and although some sloppily-shot bridging scenes betray the hectic schedules of Hong Kong cinema, the key action sequences look just fine.
Audience Reviews for Robin-B-Hood
½
A exciting and entertaining film, Rob-B-Hood is a enjoyable action/comedy movie, that presents a interesting rare role of Jackie Chan as a anti-hero. An good film to fans of Chan and martial arts comedy pictures'. Fresh.
Lucas Martins
Super Reviewer
Star-studded enjoyable Jackie Chan movie with an excellent combination of action and comedy, and adorable baby! This have been touched upon in movies like Three Men and a Baby, or even Raising Arizona. TWO THUMBS UP! Jackie isn't what he used to be back in the heyday of 1980's Hong Kong cinema, but his top notch action choreography is still inventive and fun to watch, and there are many fun set pieces. The comedy is also very well done and there are many endearing scenes with the real star of the show, baby Matthew Medvedev, who will melt any viewer's heart. Jackie and his co-stars' characters are very sympathetic and the acting for the most part is spot on. Benny Chan does an excellent job directing his stars and shows that he is not only able to direct a serious action crime drama like Chan's previous New Police Story but is also adept at the family action comedy as well. There are many cameos from well known HK stars, so be sure to watch out for them.
Dean McKenna
Super Reviewer
½
A return to comic form with Jackie, as he and his three partners, played by veteran Michael Hui and the young and charismatic Louis Koo take on the biggest challenge in their criminal career... babysitting. When the last job turns into a kidnapping, Jackie and Louis are focred to become the surrogate parents of the baby.... to which they develop a strong affection for him and forced to protect him from the Triad gang intent on recovering the child for a sinister purpose. Some good action scenes, especially involving the baby... its good to see Jackie hasn't slowed down that much with age!! The comedy is a cross slap stick and stand up between the cast and they pull it off so well. An interesting turn for Jackie... especially since his last movie before this was New Police Story... watch it for the cutey baby which steals the show and everyone's hearts.
Robin-B-Hood Quotes
There are no approved quotes yet for this movie.