Robocop 2
(1990)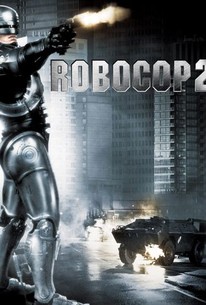 TOMATOMETER
AUDIENCE SCORE
Critic Consensus: A less satisfying rehash that generally lives down to the negative stereotype of sequels, RoboCop 2 tries to deliver more of everything and ends up with less.
Movie Info
A new drug has surfaced in the crime-laden city of Detroit, causing crime to reach preposterous proportions so the laboratory inventors of Robocop (1) go back to their drawing boards and come up with a super version, Robocop 2--more powerful than its predecessor and therefore more capable of handling the problems afoot. Unfortunately something goes wrong with the new Robocop and it goes nuts. The original Robocop (Peter Weller) has to battle not only the evils of the street, it must defeat its new demented "brother."
News & Interviews for Robocop 2
Critic Reviews for Robocop 2
Audience Reviews for Robocop 2
Sequel to Robocop is a mediocre outing and one that just tries to duplicate what the first film tried to do. With this film there a few things that work, but unfortunately there is a lot to be desired from this follow up. I really expected something good with this one; unfortunately, it tries too hard at outdoing the original and in many ways it copies the first and recycles ideas. The story is bland with few entertaining moments, and what this sequel lacks is an effective and memorable villain. The original Robocop had Clarence Boddicker, which was brilliantly played by Kurtwood Smith. The villain in this one, although played by Tom Noonan, who is a great actor, but simply doesn't deliver anything memorable in his performance as Cain. I really thought the film was a missed opportunity to make something truly great, and overall the film feels rushed with a paper thin script, and wooden dialogue that at times is cringe worthy. I loved the original film, but with this entry, the film simply doesn't do anything really entertaining and memorable. The ending fight was well done, but most action bits were just not interesting and fell apart. The plot was somewhat good, but it was underdeveloped and lacked a bit in terms of original content. Viewers who enjoy mindless thrills will surely love this one, but for die hard Robocop fans, they may dislike this one and with good reason. If the studio would have waited in trying to create a terrific sequel, and concentrated on writing a great script, then this sequel would certainly have worked. Unfortunately Robocop 2 and 3 are prime examples of movies that were made with no emphasis on quality. There are some decent action bits here and there, but overall this is a mediocre film that simply doesn't live up to the original. If more effort would have been put into this film, then this sequel surely would have been just as good as the original.
Because I grew up on these movies, I liked it. Not the best acting, but still cool.
Eric Alvarez
Super Reviewer
Spot Collins from Newsies plays a murdering drug pusher 11 year old. Can't beat that. Also, Tom Noohan plays a killer robot that is fueled by drugs. And at the end, there is an epic hour long robot fight...that makes it lose some points. But in the end, this still has plenty of fun robo cop good times.
Curtis Lilly
Super Reviewer
Robocop 2 Quotes
| | |
| --- | --- |
| Robocop: | Make haste not waste, for time is fleeting. A rolling stone is worth two in the bush. |
| | |
| --- | --- |
| Robocop: | Isn't the moon wonderful today? |
| Anne Lewis: | It's still daytime. |
| Robocop: | It's the thought that counts. |
| Anne Lewis: | Oh jesus, we're heading back to the station that's all there is to it! |