Robot Overlords
(2015)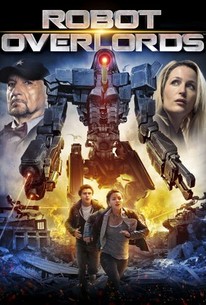 Movie Info
The adults lost the war and now the kids must save the world! Robots rule the streets and the people are locked in their homes. Stepping outside risks being vaporised by a hulking Sentry or picked off by a lethal Sniper. Through the ruins of Britain a group of kids set out to join the Resistance. Hot on their heels however is their old teacher turned robot collaborator Mr Smythe.
Critic Reviews for Robot Overlords
Audience Reviews for Robot Overlords
½
Gillian anderson coupled with some quirky humour is enough to make this somewhat lacking Scifi a tad more watchable. The acting doesn't do much to save the lacking plot.
Film Crazy
Super Reviewer
½
This is a horrible film. I have no fucking idea how this has a 60% on Rotten Tomatoes. It goes to show you that even RT is full of shit sometimes.
Stephen Skudlarek
Super Reviewer
½
Not a half bad movie. It's certainly better than, out of three Transformers films I've seen, two of them, arguably speaking. The problem with Michael Bay's Transformers, outside of the fact that they're terrible, is that they try to be too broad and the story literally makes no sense whatsoever because it is so full of pointless information. So it's nice to see a movie that, while still being silly and self-aware of its own silliness, finds a way to strip, pardon the pun, things down to a point where the film is mostly an allegory for Nazi occupation of France during World War 2. Of course, they disguised this with robots, but it's very clear that the humans being locked into their homes for fear the robots will kill them if they step out of their house is supposed to evoke that very strong image. Of course, the film isn't so much about that, but more about these kids being part of the resistance that wants to fight back the robot assholes that have taken over their planet. So in that regards, I think the movie works just fine and, honestly, it offers what Transformers always failed to deliver and that is child-like thrills. I mean that in the most complimentary way possible, of course. I don't even know how to explain it, but there's something about this that brings out your inner child in some regards, fighting with toy robots and shit. I thought that was cool. The effects, for that matter, aren't actually half-bad for a movie that cost, according to Wikipedia, $21 million to make. It's clear that this movie isn't District 9 or, even, Transformers in terms of special effects, but it's a movie that looks considerably better given its rather small budget. The story is meh, honestly. Nothing really special about it. It's this teen's search for his father so he, his family and his friends can find a way to fight back. Nothing special, but it gets the job done. Though, I will say, that the plot of the movie takes a turn, for the worst in my opinion, after a certain reveal that literally came out of nowhere without any actual build-up. Essentially, Sean, our hero, is somehow able to control the robots if they get close enough to him. It's about as unexpected and out of left field as is humanly possible, because it came during a chase scene when the robots were giving the kids the countdown to get back to their houses, Sean fell down at the last possible second and the robot stopped with him. He then figures out that he can control them if they get close enough. Just like that. I'm assuming the idea is that we're just as in the dark as Sean and the group are, but this is a plot device that changes absolutely everything. Before that point, no one had ever been able to control the robots and for them to just spring it on us, without ever giving us any explanation, and expecting us to just take it like that, feels a little insulting. It wouldn't be so much of an issue if it was like, I don't know, Sean found a cellphone when he previously didn't have one, but this is a big development in the plot and one that is absolutely essential for how the film is gonna end. I thought that was really fucking problematic and it's, easily, the film's biggest flaw. I can, honestly, see people giving up on the film after this, because it's unjustifiably not explained. It's like you're meant to ignore everything that came prior to that point, seriously, it's kinda stupid. I'm almost tempted to bump the film down to 2 stars instead of 2.5, but I don't think I'm gonna do it. Part of me, honestly, enjoyed the film's ironic silliness. The acting is fairly solid, Ben Kingsley, Gillian Anderson and Steven Mackintosh, even in an abbreviated role, are all good here. And the kids do a decent enough job themselves. The film is also really nicely shot, all things considered. So, even with the really big flaw in the film, I thought this was a decently enjoyable alternative to the awful Transformers film franchise. Might not have as much action, but it's considerably more enjoyable regardless. Though this is still only decent, at best. This is a Netflix watch, for sure.
Jesse Ortega
Super Reviewer
Robot Overlords Quotes
There are no approved quotes yet for this movie.