Rocco and His Brothers (Rocco e i suoi fratelli)
(1961)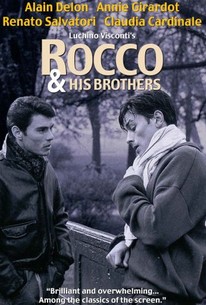 Movie Info
Luchino Visconti's operatic masterpiece tells the story of the Parondis, a poor family from a village in southern Italy who come to Milan seeking a better life. Following the death of her husband, proud Rosaria (Katina Paxinou) picks up stakes and moves to the city with four of her sons: Simone (Renato Salvatori), Rocco (Alain Delon), Ciro (Max Cartier), and Luca (Rocco Vidolazzi). Awaiting them in Milan is her oldest son, Vincenzo (Spiros Focas), who himself is preoccupied with his impending nuptials to the beautiful Ginetta (Claudia Cardinale). Divided into chapters focused loosely on each brother, the movie chronicles the Parondis' struggle to get by, as the brothers take odd jobs and the family endures life in a cramped tenement. Much of the movie's second half deals largely with Simone and Rocco. The loutish Simone eventually finds success as a boxer, and the family soon moves to a better neighborhood. Meanwhile, Rocco gets drafted by the military, and becomes a successful boxer himself upon his return. Complications arise when Nadia (Annie Girardot), a prostitute, enters their lives. Simone falls in love with Nadia first; however, Rocco eventually becomes the object of her affection. Simone's obsession with Nadia and his rapidly deteriorating behavior ultimately threaten to bring the family to ruin, even as the saintly Rocco tries to save his brother. At the peak of Rocco's success, Simone commits a crime that cruelly dashes Rocco's hopes of keeping the family together.
Critic Reviews for Rocco and His Brothers (Rocco e i suoi fratelli)
Audience Reviews for Rocco and His Brothers (Rocco e i suoi fratelli)
Although unnecessarily overlong for the kind of story it wants to tell and sometimes tending more toward soap opera melodrama than neorealism, especially in a cathartic scene in the end, this is a spellbinding, moving and brutal film with a great score and a powerful social commentary.
Carlos Magalhães
Super Reviewer
½
Beautiful, brilliant, and brutal! A universal tale of man and his environment. This film can be viewed as a social commentary of Southern versus Northern Italy and five different adaptations to modernization. The five brothers are compared to the five fingers on a hand ~ joined, yet each posits alternatives to existence. Structurally, this is shown in the films chapters devoted to each son. Vincenzo elects the petit-bourgeouis mileu; Simone, the brother with initial promise, maladapts, descending to animalism; Rocco chooses sacrifice, holding steadfast to the family clan and nostalgia; Ciro reveals integration within Milan society; and, finally, Luca offers promise. Visconti masterfully builds tension and characterization with the cinematic details of lighting, music, and montage.
Stefanie C
Super Reviewer
the melodramatic tale of a close-knit family's move from the rural south to the big northern city of milan, where everything gets complicated. once again visconti managed to suck me into a 3 hour epic. the film has two things i generally enjoy, boxing and a young alain delon. delon is beautifully restrained right up until the final scene as the too-good-to-be-true rocco, who sacrifices everything, including the woman he loves, in an attempt to hold his family together. this is quite a different role for him, best known for his supercool criminal characters of the 60's. even better is renato salvatori as his amoral brother simone, and annie girardot as the prostitute who comes between them, leading ultimately to their destruction. there are a couple of really brutal scenes and the climax is overwrought to the point of opera. it's been said visconti cast the film with his dick but he draws gritty performances from his gorgeous actors and they are certainly lovely to watch :)
Stella Dallas
Super Reviewer
Rocco and His Brothers (Rocco e i suoi fratelli) Quotes
There are no approved quotes yet for this movie.