Rock the Kasbah
(2015)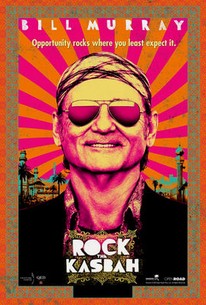 TOMATOMETER
AUDIENCE SCORE
Critic Consensus: The Shareef don't like Rock the Kasbah, and neither will viewers hoping for a film that manages to make effective use of Bill Murray's knack for playing lovably anarchic losers.
Movie Info
A has-been rock manager from Van Nuys, California stumbles upon a once-in-a-lifetime voice in a remote Afghan cave in Rock the Kasbah, a dramatic comedy inspired by stranger-than-fiction, real-life events and directed by Oscar winner Barry Levinson. Richie Lanz (Bill Murray), dumped and stranded in war-torn Kabul by his last remaining client (Zooey Deschanel), discovers Salima Khan (Leem Lubany), a Pashtun teenager with a beautiful voice and the courageous dream of becoming the first woman to compete on national television in Afghanistan's version of "American Idol." Richie partners with a savvy hooker (Kate Hudson), a pair of hard-partying war profiteers (Danny McBride and Scott Caan) and a hair-trigger mercenary (Bruce Willis) and, braving dangerous cultural prejudices, manages his new protégée into becoming the "Afghan Star."
Critic Reviews for Rock the Kasbah
Audience Reviews for Rock the Kasbah
Not totally terrible, but somewhat insensitive tone and setup. Utterly formulaic with annoying archetypes disguised as thinly drawn original characters. If this has been darker in tone and beefier (more character-driven) in plot, it would have been good. Nice framing, production design, costuming. Forgettable and joyless.
_kelly .King
Super Reviewer
½
Bill Murray, Bruce Willis, and Zooey Deschanel Rock the Kasbah in this quirky lighthearted comedy. The story follows a washed up talent manager who gets stranded in Afghanistan when his performer abandons the USO tour, but he soon sees an opportunity after learning about a singing competition called Afghan Star and discovers a singer that he thinks could go all the way. The performances are all really good, particularly Willis; who does an impressive job at delivering the dry, sardonic humor. And the soundtrack is especially well-done, doing an excellent job at setting the tone and bringing energy to the film. Tremendously entertaining, Rock the Kasbah is a lot of fun and has a positive message about the power of music.
Dann Michalski
Super Reviewer
½
This is the worst Bill Murray, probably, since either of the Garfield movies. It's one of the few movies that manages to make Bill Murray completely ineffective and charmless. That takes a whole lot of fucking effort. And, I'm sure, that the film means well in paying tribute to one of the first women to compete on Afghan Star, an actual show, with this fictional story. But the way they go about it is decidedly retrograde. They had the chance to tell an inspirational story about a woman chasing her dreams in a society that treats women, openly, as subservient and not as worthy as men. But they chose to go with the 'white savior' route, that somebody mentions here, with Bill Murray coming to a foreign country and showing the backwards and ignorant people there how things should really be done. It's a little backwards to be completely honest with you. And it's not even that, because, even with that, you can still have a good movie. The Help was something similar to this, with Emma Stone playing the author that got these black maids' stories out there, and I never finished that movie, but it was quite a good movie up to the point I did see. The problem comes first in the fact that, honestly, the movie is just not that interesting despite being inspired by an inspirational real-life story. Second of all, and this is the biggest problem, are the obvious tonal issues the film suffers from. It doesn't know if it wants to be a comedy or a drama. It's not that funny, so I'm quite surprised that they even managed to make a trailer out of this. I can understand the film wanted to mix comedy with drama, but the way this movie went about was really unskillful. Like they had no idea how to actually execute it. And this film was made by Barry Levinson who, pre-2000s, had a pretty good track record. He did Rain Man, Good Morning Vietnam, Wag the Dog, among others. So he's got some pretty great movies under his belt. Which is why this film completely missing the mark when it came to comedy is so perplexing. The movie needed like a good stretch of comedy that never actually came, so, because of that, and because of the fact that it takes almost an hour for Richie to discover Salima, this movie really fucking dragged. Characters disappear without a trace, movie drags along the desert as if dehydrated. It's just a fucking disaster. Perhaps disaster is overstating the point, but this movie just isn't good. It's culturally backwards, poorly written and Bill Murray simply cannot do this on his own. He was handicapped at, pretty much, every possible turn. He needed all the help he could get and, while he tries, it was simply not enough. It's a lifeless and charmless film. Tone deaf and just, really, a poorly made film all around. Bad movie, so I cannot really recommend this in the slightest, even if you love Bill Murray.
Jesse Ortega
Super Reviewer
Rock the Kasbah Quotes
| | |
| --- | --- |
| Army Warrant Officer: | WHY are you here? |
| Army Warrant Officer: | Why are you here? |
| Kabul: | To collect my check for this,why else? |
| Kabul: | To collect my check for this, why else? |
| | |
| --- | --- |
| Actor: | I have spent my life searching for a voice. |
| | |
| --- | --- |
| Actor: | What the hell am I doing here? |
| | |
| --- | --- |
| Actor: | Rise and shine song bird. |