Rocket Gibraltar
(1988)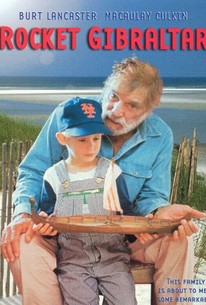 AUDIENCE SCORE
Critic Consensus: No consensus yet.
Movie Info
On the occasion of wealthy patriarch Burt Lancaster's 77th birthday, his Long Island home is invaded by well-meaning family members. Lancaster is bored by the well-meaning interference of his grown children, but he thrives on the company of his grandchildren, especially 5-year-old Macaulay Culkin (in a terrific pre-star performance). To the kids, Lancaster reveals what he really wants as a birthday present: an old-fashioned Viking funeral! From this point on, the ending of Rocket Gibraltar is a "done deal", but getting there is all the fun. A superb, hand-picked cast--including Suzy Amis, Sinead Cusack, John Glover, Bill Pullman and Kevin Spacey -does full justice to Amos Poe's whimsical, often deeply touching script.
Critic Reviews for Rocket Gibraltar
All Critics (2) | Fresh (1) | Rotten (1)
Passes for a sunny family value film that yearns for a simpler time when large extended families gathered together and made nice to each other.
Audience Reviews for Rocket Gibraltar
A little slow but touching story of the bond between a grandfather and his family. The cast is first rate but its Burt Lancaster who walks off with the film. In his last lead performance he offers a beautifully detailed and gentle performance of a man facing the end with only one wish.
I picked this up to watch because Suzy Amis was in it, and she played the part of a little sex starved couldn't get enough girl, she was even looking at her 13 year old nephew smiling, humm Suzy. Little did I know that it had Bert Lancaster, Kevin Spacey and McCauley Caulkin (barely out of diapers). Bert played the ageing Grandfather who at 77 was dying. The dysfunctional family gather in Westhampton Beach ( My Home Town), to celebrate the Grandfathers 77 birthday, but as with all families they have little time for Grandfather and are all tied up with there own life?s, but all the grandchildren get together to hear a story from grandfather about how a Viking when he dies his body is set to sea, so the grandchildren find a boat and rebuild it to look similar to a Viking boat complete with sale and they want to give it to granddad for his birthday but he goes tits up before they present it to them, so they steal a van and but old gramps in the boat and set him to sea complete with fire, of course all this is done before the family arrives to save the day. I ensure you my write up is better then the movie, Not sure this movie did anything except maybe on Long Island, The east Coast and beach Families. And had to give it 2 stars cause it was filmed where I grew up. Thanks Columbia Pictures. Only reason its going in my collection is because Suzy Amis was in it and I am collecting all her films. Oh By the way Rocket Gibraltar was the name of the Boat the Grandkids rebuilt.
Bruce Bruce
Super Reviewer
Rocket Gibraltar Quotes
There are no approved quotes yet for this movie.