The Rocketeer
(1991)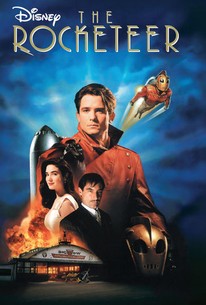 TOMATOMETER
AUDIENCE SCORE
Critic Consensus: An action-packed, if anachronistic, look back at pulp matinee serials, The Rocketeer may ring hollow with viewers expecting more than simple fun and gee-whiz special effects.
Movie Info
After getting his start as a visual effects artist on the original Star Wars trilogy, Spielberg protege Joe Johnston found success as a director with his debut film, the blockbuster family adventure Honey, I Shrunk the Kids. For his sophomore outing, Johnston helmed this action-adventurer, set in 1930s Hollywood and in the spirit of old pulp comics and adventure serials, and co-adapted from the David Stevens graphic novel by Danny Bilson and Paul De Meo. Bill Campbell stars as Cliff Secord, an eager young pilot who finds himself in possession of a secret jet-pack that gives him the ability to fly. Cliff soon learns that screen-star Neville Sinclair (Timothy Dalton) will stop at nothing to get his hands on the rocket pack so he can give it to the Nazis. As The Rocketeer and with a little help from his mechanic friend played by Alan Arkin, it's up to Cliff to elude Sinclair, defeat the Nazis, and save his girlfriend Jenny (Jennifer Connelly).
Critic Reviews for The Rocketeer
Audience Reviews for The Rocketeer
½
Being released in 1991, there was not much competition for super-heroic-esque films, and for that, I must say that "The Rocketeer" does what it sets out to do, beautifully. Fun, witty, dramatic, and awesome all at the same time, this picture balances insanely well what most films in this genre usually fail to accomplish. Billy Campbell is great in the leading role, as a pilot finds a jetpack that has been created by the opposing side of the war, he decides to use it for good, before realizing the opposing side are now hunting it down. With a few twists as to why they desperately need it back, this film keeps you on the edge of your seat, but not in an overly serious way. The chemistry between Campbell and Connelly was a joy to watch and like every film like this, the climax was one big giant spectacle, but it is one of the few to take it's time to give it meaning. Overall, I loved every second of this film, even though a few things were convenient to move the plot along. For what it is, "The Rocketeer" is a near perfect film for it's genre. Excellent!
½
Its a real shame this film bombed so much at the box office, I really can't understand why it did so badly as its one of the best comicbook adaptations around. It captures the all American spirit of the time and harnesses that glorious 30's feel with every frame. Johnston really did superbly well with this film and capturing the very essence of that classic early comicbook/serial type hero and integrating it with that all American WWII wartime effort vibe. Just seeing the old movie poster shows you how much care and attention to detail went into this film. The poster has a fantastic art deco design (from the era) of our heroic lead character, its simple and minimal but does the job a thousand times over, I love it, one of the best posters created. Even the font for the text is absolutely perfect looking. Although the character was created in 82 its an obvious homage to pulp comicbooks and matinee/serial hero characters of the 30's/40's, the idea is simple but it works so so well. The whole film has that 'Indy' feel to it and completes a trilogy of classic pulp comicbook superheroes alongside 'The Shadow' and 'The Phantom'...in my opinion. All characters of the era and all similar in design, typical manly and dashing in smart outfits, saving poor damsels in distress for breakfast. The film is nothing but fun and doesn't pretend to be serious or shy away from the ham n cheese. Dalton is the dastardly caddish villain who is clearly suppose to be Errol Flynn, Connelly is the soppy damsel in distress, Sorvino is the classic American gangster in a tubby Al Capone style ('Eddie Valentine'? perfect American mobster name methinks), O'Quinn plays Howard Hughes amazingly well and Tiny Ron is a character straight out of 'Dick Tracy'. New boy Campbell also does really well as the lead character giving the role a fresh feel and no ego problems which tend to come with big names. The film looks great and has some terrific design work, the rocket pack looks cool and practical with more nice art deco touches...as does the helmet with its rudder fin on the top. Effects were considered very good at the time with lots of high flying thrills and aerial stunts, bluescreen heavily used of course. Nowadays the effects do look rather iffy and obvious but that tends to add to the charm really, it doesn't detract from the excitement in any way. The plot is straight forward but it does get a bit beyond itself towards the finale, like how on earth does a huge Nazi Zeppelin fly into the US undetected? I guess its suppose to be the 30's so who knows, radar not at its best back then huh (well it was in its early days I believe). I must also mention the brilliant animated black n white short in the middle of the flick which shows the Nazi's intentions with the rocket pack. Truly awesome animation that is sharp as a knife to this day, it could easily have been a separate film (or series) in itself. I really can't fault this film in any way, sure its silly but its well worked escapism and an affectionate tribute to the era, anyone of any age would have fun watching this. Without taking anything away from the creators you could almost say its like an adventure from a young Indiana Jones, an early tale from his younger years, a prequel even. I love how they didn't shy away from using the Nazi's as the bad guys despite it being a family film, an important requirement. The Indiana Jones of the skies, fighting the dastardly Nazi's and their incredible machines of war, hell this is really what 'Captain America' should have been like.
Phil Hubbs
Super Reviewer
I can't help but love this movie. It's pure fun and a classic action/adventure movie. Anyone who enjoys Indiana Jones will undoubtedly enjoy this as well. Also, this is basically the framework that Joe Johnston used for Captain America. It's just a really creative way to go about making a superhero/pulp movie. The characterization is great. Billy Campbell does a good job and you really care for him and his character. Timothy Dalton does his best evil Erroll Flynn here and it's one of his best performances IMO. The visuals, pacing, story and directing are all appropriately stylized to the 30s atmosphere they were going for. It's endlessly re-watchable and one of my favorite live-action Disney movies.
Conner Rainwater
Super Reviewer
The Rocketeer Quotes
| | |
| --- | --- |
| Howard Hughes: | [about to show Cliff the Nazi propaganda film] It cost a man's life to get this out of Germany. |
| Howard Hughes: | It cost a man's life to get this out of Germany. |
| | |
| --- | --- |
| Peevy: | [reading the newspaper] "Film fans were saddened by the news that actor Neville Sinclair was killed in a tragedy when flaming debris fell on his touring car." That's terrible! That was a nice car. |
| Peevy: | "Film fans were saddened by the news that actor Neville Sinclair was killed in a tragedy when flaming debris fell on his touring car." That's terrible! That was a nice car. |
| | |
| --- | --- |
| Jenny Blake: | Oh my God. Neville Sinclair's a... |
| Neville Sinclair: | [confronting her] A what? Spy? Saboteur? Fascist? All of the above. |
| Neville Sinclair: | A what? Spy? Saboteur? Fascist? All of the above. |
| | |
| --- | --- |
| Jenny Blake: | [after smashing a flower pot on Neville's head, knocking him out] I've finally played a scene with Neville Sinclair. |
| Jenny Blake: | I've finally played a scene with Neville Sinclair. |