RocketMan
(1997)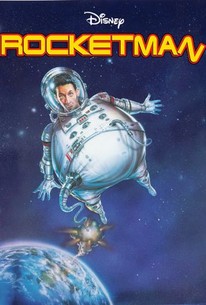 Movie Info
During NASA training, a member of the first manned mission to Mars is injured, so NASA chooses a replacement, computer geek Fred Randall. En route to Mars, Fred clashes with cocky crew captain William Overbeck, falls in love with beautiful officer Julie Ford, and cavorts with trained chimp Ulysses.
Critic Reviews for RocketMan
Audience Reviews for RocketMan
Rocketman is a horrible comedy with a bad cast. I've never liked Harland Williams, I find him to be quite one dimensional. This an awful film that has nothing whatsoever going for it. The comedy falls flat, and in the end there's nothing good about this. The film fails to deliver memorable gags and good jokes. The performances are horrible, and the film is total crap. I hated this one, this is a bad film that is a comedy worth forgetting. Harland Williams is a one of the worst comedians, and his only good film was Halfed Baked. If you give him the lead role, well you get garbage like this. The comedy sucks, and the actors seem bored, I can't blame theme. The film should never have been made. This is a painful comedy that doesn't deliver on anything. The humour is juvenile, poorly written and just misses the mark. Maybe this film could have worked. Unfortunately it doesn't. Rocketman is a horrible film, and is one of the worst comedies that I have seen. Rocketman is a film that is poorly conceived, poorly written and plainly boring from start to finish. This film proves that Harland Williams isn't a good comedic actor, and this is a bland film that is too silly too really get into and enjoy. Avoid this film and watch something else, you'll be better off. This film just sucks.
Tim Salmons
Super Reviewer
½
The main actor annoys me here. He plays the childish buffoon without any likability. Instead he just angers with his constant twattishness. At some point this irritating behaviour was adopted for protagonists of family films. It makes slapstick easy, but enjoyment difficult. It was bearable as some moments were genuinely funny. Even if Williams' delivery was off, he was supported by enough real actors to add some substance around him.
Luke Baldock
Super Reviewer