The Rocky Horror Picture Show
(1975)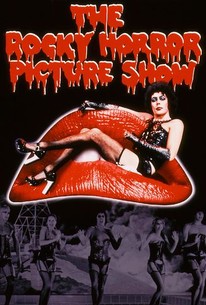 TOMATOMETER
AUDIENCE SCORE
Critic Consensus: Rocky Horror Picture Show brings its quirky characters in tight, but it's the narrative thrust that really drives audiences insane and keeps 'em doing the time warp again.
The Rocky Horror Picture Show Videos
The Rocky Horror Picture Show Photos
Movie Info
This low-budget freak show/cult classic/cultural institution concerns the misadventures of Brad Majors (Barry Bostwick) and Janet Weiss (Susan Sarandon) inside a strange mansion that they come across on a rainy night. After the wholesome pair profess their love through an opening song, their car breaks down in the woods, and they seek refuge in a towering castle nearby. Greeting them at the door is a ghoulish butler named Riff Raff (Richard O'Brien), who introduces them to a bacchanalian collection of partygoers dressed in outfits from some sort of interplanetary thrift shop. The host of this gathering is a transvestite clad in lingerie, Dr. Frank N. Furter (Tim Curry), a mad scientist who claims to be from another planet. With assistants Columbia (Nell Campbell) and Magenta (Patricia Quinn) looking on, Frank unveils his latest creation -- a figure wrapped in gauze and submerged in a tank full of liquid. With the addition of colored dyes and some assistance from the weather, Frank brings to life a blonde young beefcake wearing nothing but skimpy shorts, who launches into song in his first minute of life. Just when Brad and Janet think things couldn't get any stranger, a biker (Meat Loaf) bursts onto the scene to reclaim Columbia, his ex-girlfriend. When Frank kills the biker, it's clear that Brad and Janet will be guests for the night, and that they may be next on Frank's list -- whether for murder or carnal delights is uncertain. And just what is that mystery meat they're eating for dinner, anyway? In addition to playing Riff Raff, O'Brien wrote the catchy songs, with John Barry and Richard Hartley composing the score. ~ Derek Armstrong, Rovi
News & Interviews for The Rocky Horror Picture Show
Critic Reviews for The Rocky Horror Picture Show
Audience Reviews for The Rocky Horror Picture Show
"The Rocky Horror Picture Show" didn't invent midnight screenings but instead turned a off Broadway musical into art form that became a phenomenon within itself. Originally it opened in nation release on September 26, 1975 with an advertisement that had the iconic poster of a lipsticked mouth with the tagline "A Different Set of Jaws"-which was a reference to Steven Spielburg's "Jaws" which went on to become the top grossing picture of 1975. Getting back to "Rocky Horror", studio executives at 20th Century-Fox knew that they had an unusual film on their hands which would require a different approach to marketing since 20th Century-Fox needed a hit after it scored two of the biggest films that the studio produced which were 1974's "Young Frankenstein",and "Irwin Allen's The Towering Inferno". Before the film's U.S. premiere in Los Angeles, Fox hired a promotion company to distribute flyers to people in line to see other films as well as concerts, clubs,and beaches and other spots of interest. The company that Fox promoted handed out more than 100,000 flyers in the eight weeks before the film opened in larger cities and later on nationwide. The premise worked in some areas and in other didn't. During it's original release "Rocky Horror" became a boxoffice disaster and it wasn't until 1976 when the Waverly Theater in New York City began showing the film as part of it's midnight screenings and from there it caught on to other cities as part of its Friday and Saturday night late shows bringing in massive crowds. From there the midnight showings expanded into more cities by the end of 1980 where it played at more than 200 theaters nationwide and to this day it is the longest running midnight screening of a film that not only has audience participation but bringing in massive crowds every weekend to see it. The long-running continuation of "The Rocky Horror Picture Show" was soon followed by other midnight screenings of "Monty Python and the Holy Grail", "Pink Flamingos", "Fritz The Cat", "Blazing Saddles","Night of the Living Dead", "Harold and Maude", "King of Hearts", "El Topo",not to mention the 1936 movie "Reefer Madness" just to name a few. But "Rocky Horror" added another level of enjoyment to these midnight screenings since some theaters gave discounted admission to anyone dressed up in character costumes where there would be singing along and vocally interacting with the one screen action(among the items frequently brought to throw at the screen were toast, newspapers, confetti,rice, toilet paper,and a deck of cards)which continues to this day....40th years after its original release. "The Rocky Horror Picture Show" even though it was a low-budget produced (by Lou Adler),cult classic made huge stars of two unknown actors Barry Bostwick and future Oscar winning actress Susan Sarandon and made British sensation Tim Curry into a cult phenomenon beyond expectations. Even for its time 1975 was controversial but still remains a bonafide classic especially when we want to go through the time warp again.
Mister Caple
Super Reviewer
½
An adorable hybrid of musical, comedy and horror parody with a delightful performance by Tim Curry, who steals the show and was certainly having a lot of fun doing this movie - and it is full of great songs, delicious over-the-top acting and well-inspired moments.
Carlos Magalhães
Super Reviewer
½
Somehow my flixster rating for this was 2, even though I never saw it before (huh?). Well, what do you know, finally watched it tonight and rating was about right. Glad I finally saw it, but honestly it's nothing I would rush to watch again. It's original, I will give it that. I liked a few, not all, of the songs. And full marks to Susan Sarandon. I did not actually realise she was in this. On the downside, it's kind of ugly to look at and you have to suspend belief beyond what you normally would in a musical. I'm not sure I entirely "got" it, to be honest. It's kind of grotesque. Actually really having trouble articulating my thoughts on this. That is probably exactly what they were going for!
Nicki Marie
Super Reviewer
The Rocky Horror Picture Show Quotes
| | |
| --- | --- |
| Brad Majors: | Janet, they're obviously foreigners, and this must be one of their national dances. |
| | |
| --- | --- |
| Dr. Frank-N-Furter: | That's a rather tender subject. Another slice, anyone? |
| | |
| --- | --- |
| Dr. Frank-N-Furter: | Don't be upset...It was a mercy killing...He had a certain naive charm, but no muscle |
| Dr. Frank-N-Furter: | Don't be upset...It was a mercy killing. He had a certain naive charm, but no muscle. |
| | |
| --- | --- |
| Dr. Frank-N-Furter: | I hope you're adaptable, Dr. Scott. I know Brad is. |