Rocky III
(1982)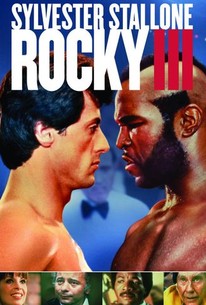 TOMATOMETER
AUDIENCE SCORE
Critic Consensus: It's noticeably subject to the law of diminishing returns, but Rocky III still has enough brawny spectacle to stand in the ring with the franchise's better entries.
Movie Info
Sylvester Stallone returns to the character which made him famous in this wildly successful sequel. Rocky III starts with the Italian Stallion so famous that his likeness is everywhere, including pinball machines. Fame and complacency soon cause Balboa to lose his title to young thug Clubber Lang (Mr. T), who inadvertently causes the death of Rocky's beloved trainer, Mickey (Burgess Meredith), before their first championship bout. After sinking into a depression, Balboa must regain the love and support of his family, as well as the elusive "eye of the tiger," the hungry need to beat the opponent which former foe Apollo Creed (Carl Weathers) teaches him during this film's de rigueur training sequence. In the end, Balboa faces off against Lang for a second time. "Eye of the Tiger," the theme song Stallone commissioned from the band Survivor, became a huge hit single.
News & Interviews for Rocky III
Critic Reviews for Rocky III
Audience Reviews for Rocky III
Apparently, the worst that can happen to any fighter is to get civilized, and so the great underdog drama of the previous films is gone in this forgettable, unnecessary third installment now that we are left with a famous boxing star fighting a psycho killer.
Carlos Magalhães
Super Reviewer
½
The third instalment in the "Rocky" franchise is a little underwhelming, albeit enjoyable. The cast works together better than ever, and the bond between Rocky and Apollo Creed is the best chemistry in the series yet. Deep down, this movie has elements that have been missing throughout the years in the previous films, but the script is kind of lazy and the fights don't seem as inspired. Still, the final fight with Stallone and Mr. T makes the film already good enough to view, because the raw feeling of that fight is almost better than any of the previous finales. It may not reach any new heights for the franchise, but it's still enjoyable.
½
An unnecessary but entertaining chapter to the Rocky saga. Stallone laces up the gloves again. A very cliche and somewhat-misdirected plot, dialogue and moral knocks it down, but the energetic action and boxing drama and glory brings it back up and continues to swing to the final bell. 3.5/5
Eugene Bernabe
Super Reviewer
Rocky III Quotes
| | |
| --- | --- |
| Thunderlips: | Hang on Meatball!!!! |
| Thunderlips: | Hang on Meatball! |
| | |
| --- | --- |
| Clubber Lang: | Hey woman! Hey woman! Listen here: since your ol' man ain't got no heart maybe you'd like to see a real man. I bet you stay up late every night dreaming you had a real man, don't ya'? I tell you what, bring yo' pretty lil' self over to my apartment tonight and I'll show you a real man. |
| | |
| --- | --- |
| Clubber Lang: | Apollo Who?! You talkin' about that ol' fool Apollo Creed? Shucks, one has-been teaching another. All Apollo has been doing has been running off at the mouth lately and when I see him I'm gonna close it for him. |
| | |
| --- | --- |
| Rocky Balboa: | How did you get so tough? |
| Adrian: | I live with a fighter |
| Adrian: | I live with a fighter. |