Rodgers & Hammerstein's Cinderella
(1997)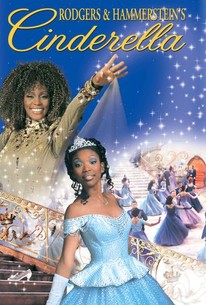 Rodgers & Hammerstein's Cinderella Photos
Movie Info
Seen on ABC's Wonderful World of Disney, this $12-million production is the only musical Rodgers and Hammerstein wrote for television. The CBS-TV original, with 21-year-old Julie Andrews in the title role and Edie Adams as the Fairy Godmother, played on live television March 31, 1957 to TV's largest audience ever to that date (107-million viewers). That historic production, captured on kinescope, can still be seen today on library monitors at the Museum of Television & Radio in New York and Los Angeles. Hammerstein died in 1960 and did not get to see 18-year-old Lesley Ann Warren as Cinderella in the February 22, 1965 restaged production, repeated annually on CBS until 1977 and later made available on videotape from CBS/Fox Video and Facets Multimedia. Added to the 1965 show was "Loneliness of Evening", a song actually written for South Pacific but cut before the Broadway opening. Running a half-hour longer, this third interpretation premiered November 2, 1997. Filmed over a 28-day period, it stars Brandy Norwood as Cinderella and Whitney Houston as the Fairy Godmother, with Bernadette Peters as the Stepmother, Whoopi Goldberg as the Queen (wearing $60 million worth of borrowed Harry Winston jewelry), Paolo Montalban as the Prince, and Jason Alexander as the Prince's steward, Lionel. Scripter Robert L. Freedman provided a rewrite of the original Oscar Hammerstein book, and three other Richard Rodgers songs were added to the existing score: "There's Music in You" (from the 1953 movie musical Main Street to Broadway), "The Sweetest Sounds" (a Brandy/Montalban duet), and "Falling in Love with Love". Originally set in motion as a follow-up to the highly successful TV Gypsy (1993) with Bette Midler, this 1997 multicultural version (sometimes referred to as the "rainbow Cinderella") was years in the making, since it was initiated in 1994 when Houston joined executive producers Craig Zadan and Neil Meron (the team responsible for the TV Gypsy).
Critic Reviews for Rodgers & Hammerstein's Cinderella
Audience Reviews for Rodgers & Hammerstein's Cinderella
½
Truth be told, I haven't seen some of the Cinderella adaptations, but at least I've seen three of them. The first was the Disney animated classic, the second was the 20th Century Fox motion picture Ever After that starred Drew Barrymore, and this one happens to be the third Cinderella adaptation that I have definitely seen from my childhood years on my videotape. If there is one positive word I have to sum this TV movie up, I say "amazing!" because I have seen that a lot of effort was put into it. The cast were exactly the right choices. Even Whoopi Goldberg, Jason Alexander, Bernadette Peters, and Victor Garber were so talented. Oh, and about Brandy. I'm not exactly a fan of her, but I think she was a very good singer and a neat actress for the part of Cinderella. Even her chemistry between her and the prince played by Paolo Montalban were well-characterized and well-developed. The songs were solid. "Impossible", "It's Possible", "In My Own Little Corner" and the rest of them were very unique. The story followed its potential except there were some aspects that would have been better to the plot. Cinderella is, with in my heart, one of The Wonderful World of Disney's greatest TV movie from the classic 90s and will always be recommended for fans of Cinderella. Why was this given a 5.7 rating is beyond me. 9.4/10
Gavin Cresswell
Super Reviewer
The dialogue was simplistic, the acting was cheesy and the special effects... weren't so special... But that's all part of the appeal. It's silly and entertaining. It's not nearly as polished as the original but this remake is still quite amusing. BTW, how can a white man and black woman spawn an asian child?
Brandon Williamson
Super Reviewer
½
I LOVED the music but it was just weird that a black mother and white father made an Asian kid. The black stepmother has a white daughter. It was unique that they did that but also a little distracting. Brandy is a good singer... but maybe not as great at acting. But I did watch this one a few times so I suppose it's memorable for its music!
Dannielle Albert
Super Reviewer
Rodgers & Hammerstein's Cinderella Quotes
| | |
| --- | --- |
| Fairy Godmother: | When she sings impossible. |
| | |
| --- | --- |
| Fairy Godmother: | When the fairy goodmother sings inpossible |
| Fairy Godmother: | [singing] Impossible things are happening every day! |