Roger & Me
(1989)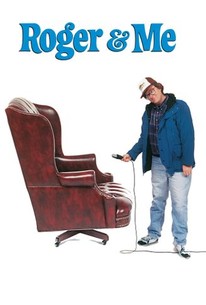 Movie Info
Michael Moore's wickedly iconoclastic documentary was inspired by the decline and fall of Flint, Michigan. Once the site of a thriving General Motors plant, Flint went quickly to seed when GM decided to close down and move out. As Moore pokes around what has been described by one magazine as "the worst place to live in America", he finds out how the local populace is coping with GM's betrayal of the American Dream. Among those visited are a family who is evicted just before Christmas, and an enterprising middle-aged woman who set up a thriving business slaughtering and skinning rabbits. Never feigning objectivity, Moore contrasts the impact of the shutdown on the average Joes and Janes with the diffident reaction of Flint's power elite. The latter's patronizing attitude towards the unemployed multitudes is succinctly captured in the scenes in which visiting celebrities Robert Schuller, Anita Bryant, Bobby Vinton and Pat Boone exhort the citizenry to grin and bear it. Even more out of synch is "Miss Michigan" Kaye Lani Rae Rafko, who in her morale-boosting speech to the disenfranchised GM employees begs them to pull for her in the upcoming Miss America pageant! The film's throughline is Moore's futile effort to locate GM chairman Roger Smith, so that he can show Moore first-hand the utter devastation of Flint. Roger & Me is very funny, but it is the gallows humor of soldiers about to embark on a suicide mission. In 1992, Michael Moore more or less updated Roger & Me with his half-hour short subject Pets or Meat: The Return to Flint.
Critic Reviews for Roger & Me
Audience Reviews for Roger & Me
½
Flint truly is one of the scrungiest shit-streaks in the country. one of the reasons for this is that they take the time to form lynch mobs in order to burn copies of magazines that criticize their poodle-vomit stenched fucking town.
Coxxie Mild Sauce
Super Reviewer
Michael Moore's directorial debut Roger & Me is a well made documentary about the impact of General Motors closing an automobile plant in Flint, Michigan, Michael Moore's hometown. Moore paints a great portrait of a town hit hard by the plant closing. This is a very good documentary that illustrates the consequences of what happens to a town, when a major industry shuts down. Michael Moore creates a good film that is a must see if you love his films. Moore goes in depth with his subject and gives the viewer an entertaining journey as he seeks out to uncover the story of the unemployment in Flint. Michael Moore direction is wonderful, and he always manages to capture something special on film. With this film, you see what the GM plant closing in Flint has done to a once proud town. Stores have closed, families have become homeless and others have resorted to crime. Roger & Me is a fine debut film that showcases Moore's talents as a filmmaker. Although not his best, we get see Moore's flair in making an effective documentary that just grabs your attention from start to finish. I really enjoyed the film and despite its serious tone, there are a few light hearted moments that is a typical aspect of a Michael Moore documentary. Give it a shot, you make like, but this is a film that is basically for Michael Moore fans. Roger & Me is a great debut, and one that launched Moore into a memorable film career in making movies that makes you ask questions and exposes subject that many people wouldn't
½
A fantastic documentary from Michael Moore, his hometown is a subject he knows a lot about, but it's more than that really, and I highly recommend this movie, even if you don't like documentaries.
Roger & Me Quotes
There are no approved quotes yet for this movie.