Roger Dodger
(2002)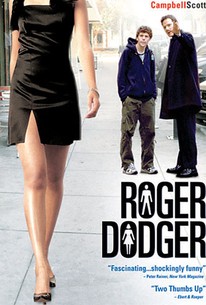 TOMATOMETER
AUDIENCE SCORE
Critic Consensus: The movie could have benefited from a more experienced director, but a great cast and script overcome any first time jitters the director may have had.
Movie Info
Writer/director Dylan Kidd got a chance to make his script for Roger Dodger into a feature film when he boldly approached Campbell Scott in a café in Greenwich Village and made his pitch. Eventually, Scott would agree to executive produce and star in the film, and was responsible for bringing Jennifer Beals and Isabella Rossellini onboard. Scott stars as the eponymous Roger, a successful New York ad man and self-proclaimed master of reading and manipulating women. The film begins with Roger out for drinks with his co-workers and demonstrating his verbal gifts. "Words are my stock in trade," he explains as he expounds. But he soon learns that his boss, Joyce (Rossellini), wants to end their clandestine sexual relationship. Roger gets another shock when his teenaged nephew, Nick (Jesse Eisenberg of TV's Get Real), shows up unannounced the next day at his job. Nick explains that he's in town for an interview at Columbia and soon admits that he wants Roger to take him out and give him a crash course on women. Soon the pair is out carousing, but when they run into the lovely Andrea (Elizabeth Berkley) and her friend, Sophie (Jennifer Beals), Roger discovers that despite Nick's sexual desperation, the teen is temperamentally unsuited to Roger's transparent womanizing mode of operation. In short, Nick is a sweet, open, and sensitive boy, while Roger proves himself to be a misogynist pig. Their differences grow even starker when Roger decides to crash a party Joyce is throwing that night, and brings Nick along. Roger Dodger was named the Best Narrative Feature in competition at the 2002 Tribeca Film Festival.
News & Interviews for Roger Dodger
Critic Reviews for Roger Dodger
Audience Reviews for Roger Dodger
Gotta love high-functioning sociopaths like HIMYM's Barney Stinson and Campbell Scott's titular Roger in this dark, delicious gem. Roger's tried-and-true tricks aren't just cheesy pick-ups, but carefully honed skills that show off the Darwinningest male. Jesse Eisenberg, in his first film role, is sweet and endearing with a hint of rebellion, and the brief roles of 80s-90s dream queens, Elizabeth Berkley and Jennifer Beals, make for a bittersweet sex education. It was so bittersweet that I wished something would happen for Nick and Sophie at the end - not necessarily sex but just SOMETHING instead of Uncle Dad once again aiding and abetting a lame flirtation with high school queen bee whom the audience hasn't gotten the chance to know and fall in love with yet.
Alice Shen
Super Reviewer
½
A fast-paced, dialogue-driven, well-constructed little film about the immorality of our times, specifically playboy Roger (Campbell Scott) and how he decides to give his 16-year old nephew (Jesse Eisenberg) in town a crash course in how to get laid after his nephew asks for his help. It is at times a little unbelievable, but still irrefutably fascinating despite its shortcomings and uneven pacing. This is mostly due to Scott's powerhouse performance as a man stripped of any conceivable morals, which serves as a fascinating though depressing study of sex and its agonizing grip on some individuals lives. Eisenberg is also fantastic playing the insecure, virgin character he and Michael Cera have made a living off of for a little over a decade now. It is explicit, sometimes a little full of itself, and sometimes lacking some editing, but is is nevertheless a successful, memorable look on the lack of morality in our culture.
Dan Schultz
Super Reviewer
By displaying to audiences a severely dishonest human being, Roger Dodger's thought-provoking script is able to reach a surprising level of honesty. While Campbell Scott plays a hugely unlikeable character (which wouldn't be a problem if the script didn't want audiences to sympathize with him), Jesse Eisenberg is as good as always in his first-ever movie.
Sam Barnett
Super Reviewer
Roger Dodger Quotes
| | |
| --- | --- |
| Roger Swanson: | You can't sell a product without first making people feel bad. |
| Nick: | Why not? |
| Roger Swanson: | Because it's a substitution game. You have to remind them that they're missing something from their lives. Everyone's missing something, right? |
| Nick: | I guess. |
| Roger Swanson: | Trust me. And when they're feeling sufficiently incomplete, you convince them your product is the only thing that can fill the void. So instead of taking steps to deal with their lives, instead of working to root out the real reason for their misery, they go out and buy a stupid looking pair of cargo pants. |
| | |
| --- | --- |
| Nick: | What is this? |
| Roger: | Rum and coke. I told him to mix it weak. We got a long way to go here. |
| Nick: | Okay. I don't drink. |
| Roger: | You kidding me? Take a drink. |
| Nick: | I don't put alcohol into my body. |