Rogue
(2008)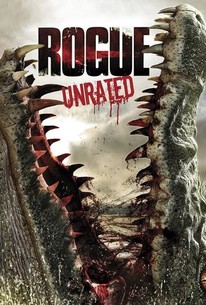 Movie Info
A handful of tourists looking for adventure get more than they bargained for when they cross paths with a massive man-eating beast in this thriller. Pete McKell (Michael Vartan) is a writer for an American travel magazine who has been assigned to write a story about vacationing in rugged Northern Australia. Pete signs up for a cruise along a river that's home to a large crocodile population, with tough but pretty Kate Ryan (Radha Mitchell) serving as guide. Pete soon finds he's roughing it in the Aussie wilds with an eclectic variety of travelers, including Russell (John Jarratt), who is dealing with the death of his wife; Simon (Stephen Curry), a tactless amateur photographer; and Allen (Geoff Morrell), a member of the British upper crust making the trip with his ailing spouse (Heather Mitchell) and their rambunctious daughter (Mia Wasikowska). While Kate's former husband, who also works on the river, makes a pest of himself in the early stages of the voyage, the travelers soon find they have more to worry about when their craft is attacked by a massive 25-foot crocodile, who is just clever enough to know how to trap its prey before enjoying them for dinner. Rogue was written and directed by Greg McLean, who made a splash among horror fans in 2005 with his debut film, Wolf Creek. ~ Mark Deming, Rovi
News & Interviews for Rogue
Audience Reviews for Rogue
[img]http://images.rottentomatoes.com/images/user/icons/icon14.gif[/img] It would have been nice to see Greg McLean add to the man-eating monster movie by offering something more than the standard fare. He made a great splash on the scene and took the typical cat and mouse, rape and run flick and created some insanely nerve-wrecking suspense with Wolf Creek which is a very tough, massively under rated horror film. When I first saw that film it absolutely terrified me, and in addition he demonstrated just how much he loves genre cinema. But with Rogue all he actually does is show how much he adores horror. At first it would have seemed ideal for McLean to make a 'SyFy' style monster movie and although Rogue boasts some pretty suspenseful moments generally it doesn't add up to very much. It starts off pretty boring and tedious but eventually picks up after the 40 minute mark. It boasts some great acting from it's unknown cast and some dazzling creature effects. It's also shot with directorial style and features a satisfying finale. Put it this way if you've seen as many clumsily built B movies about man-eating crocodiles as me you'll take great pleasure in watching Rogue. However I expected more from Greg McClean because he really knows how to perfect tremendous horror. I did take a liking to the film because it's executed with good intentions and respectability but it's utter unremarkability bothered me quite a bit. It's not his best film by a fair bit, but all the good things about it make up for everything else. Which includes great gore, eery atmospherics and the beauty of quiet suspense.
Directors Cat
Super Reviewer
½
Rogue is a simple but effective Australian horror flick. The story setup is basic, with a group of tourists ending up off the beaten path during a river sightseeing trip, and stranded within easy reach of the jaws of a monstrous crocodile. I had tried watching Rogue once a few years ago, but didn't give it more than a few minutes before I turned it off and watched another movie. Something about how it begins failed to catch my interest back then, but I've become such a big Radha Mitchell fan since then that I had to go back and give it another try. And I'm glad I did. Rogue is nothing genre-changing, but it does have some thrills to offer and will admirably serve if you're looking for this kind of a movie. The cast is decent, with a few faces you've probably seen (the aforementioned Mitchell, as well as Michael Vartan, a teenage Mia Wasikowska, and Sam Worthington), but the real star is the croc. The special effects are petty good for a movie of this budget, and as the croc is on-screen more Rogue gets more and more interesting. The finale is pretty awesome, as a result. Recommended.
Ever wonder what one of those cheesy SyFy channel movies would be like if they: A: Had better writers. B: Had a bigger budget. C: Could attract better actors. Welll wonder no more! While the basic story is about as interesting as a made for SyFy movie...that is where the similarities end. This film is beautifully shot, has decent dialog and character development and is quite intense at times. Radha Mitchell and Michael Vartan are pretty solid as the two leads, while Sam Worthington and Mia Wasikowska (who are two fairly "big names" now) pop up in smaller roles. All in all a decent film.
Rogue Quotes
| | |
| --- | --- |
| Kate Ryan: | I can't find the flares. |
| Pete McKell: | Would they be in a giant yellow box with the word "flares" written on it. |
| Pete McKell: | Would they be in a giant yellow box with the word 'flares' written on it. |
| | |
| --- | --- |
| Pete McKell: | I just saw a man get eaten by a fucking crocodile. This is not what I do, alright. You know what I do? I write stupid articles about hotels, restaraunts and resorts. Not about the Australian Outback. And by the way, I fucking hate animals, especially ones that can kill you! (muttering to himself) Speaking of which, I'm gonna kill my fucking editor when I get home. |
| Pete McKell: | I just saw a man get eaten by a fucking crocodile. This is not what I do, alright. You know what I do? I write stupid articles about hotels, restaraunts and resorts. Not about the Australian Outback. And by the way, I fucking hate animals, especially ones that can kill you! [muttering to himself] Speaking of which, I'm gonna kill my fucking editor when I get home. |
| | |
| --- | --- |
| Neil: | What the fuck you gawin' at, four eyes? |
| Pete McKell: | I don't know. I got the brochure, but it didn't say anything about assholes. |
| | |
| --- | --- |
| Neil: | What the fuck you gawin' at, four eyes? |
| Pete McKell: | I don't know. I got the brochure, but it didn't say anything about assholes. |