Rollerball
(1975)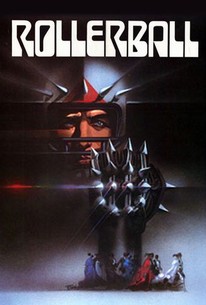 Movie Info
In a future world ruled by industrialists, "civilized" society has removed violent activity and a new sport, rollerball, has emerged. The industrialists oppose the ultimate rollerball champ, fearing that his popularity will make him too powerful. To get rid of him, they make contests last until one side is vanquished.
Critic Reviews for Rollerball
Audience Reviews for Rollerball
In a future where corporations run pretty much everything and individualism is a big no-no, James Caan is our noble savage, curious as to why he is being asked to retire. Unfortunately that's all there is to this attempt at social commentary which is more flash than dash. Eat your popcorn quickly so as to get a good nap in for the last quarter.
Kevin M. Williams
Super Reviewer
½
The star player of a gladiatorial future sport is ordered to retire by the corporate executives who see his popularity as a threat to their totalitarian grip on society, but when he resists they begin to change the rules of the game to ensure his failure. Rollerball is another example of 70s dystopian sci-fi that mingles brutal action sequences that represent the games and more measured, cerebral scenes that examine the nature of a society in the thrall of fascism. Obviously very much based on the Roman concept of "bread and circuses", as the character of Jonathan E. begins to question his role despite all the comforts he has come to enjoy at the behest of the faceless corporations who now wish him to disappear. Caan makes a solid anti-hero who only stops to think about the political situation once it directly affects his own wants and needs and there is a memorable cameo from Ralph Richardson as an eccentric librarian.There is perhaps a little too much disparity between its bloody action and the extremely low key concept driven scenes in between, but Rollerball is still a thought provoking sci-fi with plenty of nostalgic 70s styling to enjoy.
½
"Rollerball," directed by Norman Jewison ("In the Heat of the Night," "Moonstruck") and starring James Caan ("The Godfather"), has a good premise. From the standpoint of the mid-1970s, it looks ahead to the 21st century, envisioning a global society ruled by a handful of corporations. No more national governments. The corporations sponsor the eponymous roller-derby game, and Caan's character is the game's biggest star. The executive sponsor of the game (played by John Houseman) suddenly turns against Caan, fearing that his popularity has begun to undercut the point of the game, which is to teach that individualism is futile. Houseman orders Caan to retire, but Caan refuses. The corporations are not used to defiance, and they don't immediately know how to handle the situation. Let's just say that a titanic struggle erupts. I won't say who wins in the end. Unfortunately, the editing of the film is so poor that any tension inherent in the story is bled out. There are countless scenes that are unnecessary, and the necessary ones go on too long. For a movie like this to have a two-hour running time is absurd. If Jewison had edited himself, he might have produced a crisp thriller with interesting undertones posing questions about the development of corporate power. Instead, he ended up with a thriller so bloated, ponderous and over-long that it's hard to watch without falling asleep. What a shame. An historical aside: The big movie of 1975 was "Jaws," which created the phenomenon of the summer blockbuster and made Steven Spielberg one of the most famous men in the world. Other popular American films that year: "One Flew Over the Cuckoo's Nest" (which won the Best Picture Oscar), "Dog Day Afternoon," and "Shampoo." It was also the year Robert Altman's near-masterpiece "Nashville" came out, a film I saw for the first time just a couple months ago.
William Dunmyer
Super Reviewer