Rollerball
(2002)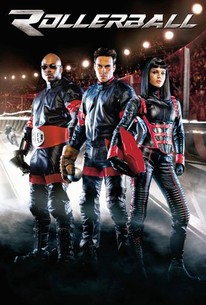 TOMATOMETER
AUDIENCE SCORE
Critic Consensus: Removing the social critique of the original, this updated version of Rollerball is violent, confusing, and choppy. Klein makes for a bland hero.
Movie Info
Jonathan Cross is an all-American hotshot, the most popular player in the fastest and most extreme sport of all time: Rollerball. Along with teammates Marcus Ridley and Aurora, Jonathan is living the high life -- fame, money, incredible cars -- all for giving viewers what they want: a dangerous game packed with visceral thrills, breakneck speed and head-slamming action. Things go wrong when Rollerball's creator, Petrovich, realizes that serious on-court accidents bring higher viewer ratings. Soon Jonathan and his friends are playing for their lives. The teammates find themselves trapped in intrigue, pawns in a new game without any rules.
News & Interviews for Rollerball
Critic Reviews for Rollerball
Audience Reviews for Rollerball
Within the first few minutes of this film you can easily see the direction its taking and that its gonna be bad. With horrible computer generated images and heavy metal playing straight away its all too clear you are in for a modern piece of crapola. The first action sequence has 'Jonathan' flying down San Francisco streets on some kind of skateboard thing, kinda like a toboggan or something. Its pointless, bland, completely uninteresting and makes no difference to the plot, just like the entire film. It is there we find out Chris Klein is our hero, playing the role James Caan did so well, what is totally ridiculous is in no way does Klein look like he could be a powerful 'Rollerball' player. As for the game itself its a horrific mess of over the top unrequired gloss that is completely the opposite from the original material. All the players are decked out in pathetic costumes that look like something from a mardi gras, the women are squeezed into rubber/latex fetish outfits (I quite liked that) and the helmets worn just make you laugh, talk about nonfunctional for the game. Everything in this film is needlessly blown out of proportion whilst also ejecting the entire sterilised political bigbrother type concepts of the first film. The other hilarious issue with this film, apart from the pantomime like costumes on the players, is the track or arena. The track where the games are held in the original film was a large circular hard surfaced arena like in speed skating (without the ice naturally). In this remake the track is a figure 8 shape with ramps, dips, bumps, high levels and what looks like chutes to skate down, in short it looks like a kids skateboard park cross adventure playground. This whole concept completely removes you the viewer from the film as there is simply no way the huge amount of players and bikes could fit on this pathetic track/arena. You can see they don't in many shots throughout the film!, its a total fudge up I tell ya, a funny one at that. The action is a horrible muddle of skating, blood, fighting and stupid bike stunts all crammed within this tiny arena, at the same time you have other players skating down from higher levels or platforms for no apparent reason other than to look cool in the film. Oh and the track/arena had its own rock band on the sidelines to play the right tone of metal to accompany the in-game violence. Do I need to mention how jokey that is? yes...yes I do, it was embarrassingly jokey, just like the oversized helmets some of the players wore. I understand that the original 77 film had limitations of tech for the era and I'm sure it may have been more stylised and flashy if the creators had the modern benefits this 02 film had. But like many other films ('Star Wars') the limitations of the time proved to be the films winning key, this element like other modern films has been lost completely here. Instead we are presented with an absolute turd of a film with shockingly bad 'action' set pieces (despite not actually requiring major action set pieces for the plot), dreadful visuals that might as well be that 'Gladiators' TV show complete with glitter and sparkles, a god awful thrash/heavy metal soundtrack just in case you forgot this film was suppose to be tough and your obligatory dire big name cast hot of the heels of other poor major blockbusters (yeah stick him/her in it, big name, can't go wrong, doesn't matter if they actually fit the role or not pfft!). The finale is a typical example of how less is more. The whole film is an example of how less is more frankly but the ending is so cliched and dumb it was awkward to watch. A vile modern remake that deservedly flopped bigtime thank god. Its just a shock that McTiernan was behind the camera for this, the man who gave us 'Die Hard' and 'Predator' for fudges sake!.
Phil Hubbs
Super Reviewer
What is there to say about this remake of the classic film? words aren't enough to describe the abomination that is Rollerball. The film is dreadful with a bad script, bad acting which goes well with the bad actors, and what surprises me is that it was made by John McTiernan the same director who directed some monumental action films such as Die Hard, Predator and The Hunt For Red October. This is simply a bad film made by a once good director. The story is terrible and the cast are all of bunch talentless morons that make this less enjoyable by the minute. The thing that was interesting about the film was Slipknot's cameo, and as a big metalhead, I thought it was pretty cool. But to say that a band salvaged a dreadful film is plainly stupid. Rollerball belongs on the same list as other lackluster "re imaginings" as most recent horror films. This is a dreaful train wreck and it insults you from start to finsh. Don't be fooled by the "cool" action scenes" they're not that great. The original 1975 classic Rollerball is the definitive version, and those who've seen this train wreck should check out the original, you'll at least redeem your senses by watching a terrific classic. This film should be avoided like an Uwe Boll film. At least Uwe Boll films are humorously entertaining, this trash is simply sad.
½
While it's not an incredible movie or defining of the genre, this is a fun movie that never tried to be above itself. It took a pre-existing concept and went with it, I think the main reason it was slammed so hard is that it really should have been done a decade before or after. People just didn't want to see a sci-fi action movie outside of something like the Matrix, except maybe for me. I really had a lot of fun with this and I think the overall product is interesting to say the least.
Conner Rainwater
Super Reviewer
Rollerball Quotes
There are no approved quotes yet for this movie.