Roma
(2018)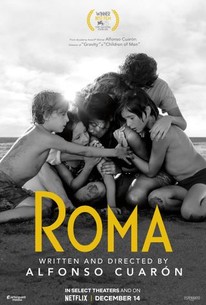 TOMATOMETER
AUDIENCE SCORE
Critic Consensus: Roma finds writer-director Alfonso Cuarón in complete, enthralling command of his visual craft - and telling the most powerfully personal story of his career.
Movie Info
The most personal project to date from Academy Award (R)-winning director and writer Alfonso Cuarón (Gravity, Children of Men, Y Tu Mama Tambien), ROMA follows Cleo (Yalitza Aparicio), a young domestic worker for a family in the middle-class neighborhood of Roma in Mexico City. Delivering an artful love letter to the women who raised him, Cuarón draws on his own childhood to create a vivid and emotional portrait of domestic strife and social hierarchy amidst political turmoil of the 1970s. Cuarón's first project since the groundbreaking Gravity in 2013, ROMA will be available in theaters and on Netflix later this year.
News & Interviews for Roma
Audience Reviews for Roma
Roma is a personal and tumultuously grounded story that's beautifully crafted and shot by Alfonso Cuarón. Held together by its backdrop of 1970s turmoil in Mexico as well as the intimate struggles that coincide make this film the director's best and most earnest in his career as well as arguable for one of the best of the year. 4/5
Eugene Bernabe
Super Reviewer
Alfonso Cuaron won a bushel of Oscars for his last groundbreaking project, 2013's lost in space epic, Gravity, and one of the most daring and innovative filmmakers working in cinema had what every artist craves - cache. He could do whatever he wanted with his earned credits. And so Cuaron told a personal story about growing up in Mexico City, a love letter to his own nanny. Roma follows the life of Cleo (Yalitza Aparicio) for most of the year 1971, through her ups and downs and the loping rhythms of domestic life. This review is going to come across sounding far more critical than I intend. It's mostly because I'm trying to deduce why my own experience with Roma was not the rapturous, transformative experience that my fellow film critics have sang. It's a good movie but I'm trying to pinpoint why it kept me from fully engaging, or what within me stopped from engaging further. I think it stems from the central intent of the film and its overall perspective that proves too limiting for my tastes. But first the good and the exquisite. Roma is a lusciously photographed and composed movie that brilliantly recreates the time and place of Cuaron's childhood with stunning black and white photography (Cuaron serves as his own cinematographer for the first time). There are moments that are stupendously put together, pulled directly from Cuaron's impeccable memory. Sometimes these even stem into the surreal, like a forest fire that features a man in holiday costume singing to himself while life and the flames rage on behind him, the chaos of the moment centered on a beautiful focal point. There's an extended sequence of a car trying to park down a narrow driveway that becomes a symbol of unchecked manhood. There's a riot that feels like it is being captured live, even though your brain tells you it's the work of hundreds of people all coordinated to bring about Cuaron's vision. There's even a subtle (maybe not so subtle) nod to Gravity at the local movie theater. There is one family relative who garishly hangs the heads of dearly beloved dogs from the past as if they were hunting trophies. It's a peculiar and striking detail and something that carefully tells you more about a side character. Then Cuaron cleverly cuts to the current canine being pet, establishing the connection of present and future as well as past and present, an achingly affecting theme throughout the film, trying to better understand our beginnings and the people who impact us. You can tell he has great affection for the women often responsible for the upbringing of children in rich homes. Cleo is the main character of Roma and given humble life by first-time actress Yalitza Aparicio. She's very passive and selfless to a fault, but her actions demonstrate the care she has for the family she works for, especially the younger children. The emotional thrust of the film is Cleo's unexpected pregnancy. She's single, young, and worried it might cost her employment. It's a difficult decision and the would-be father, a friend of a cousin, seems to want nothing to do with this new responsibility. There's a moment late in the film, filmed in Cauron's signature long takes, that breaks your heart, forcing the audience into Cleo's position where she is struggling for meaning as an agonizing reality sinks in. Aparicio shows that she is more than capable of communicating larger emotions when given the opportunity. And yet, I kept waiting to be truly transfixed, and waited, and ultimately I found myself enjoying Roma but more as a lyrical long form memory piece from someone else's life than as a functioning drama. This is a love letter to Cuaron's childhood nanny (it's dedicated to her by name) and it's a recreation of his childhood memories, which makes it deeply personal and lovingly realized from the basis of plucking fully formed moments and bringing them to startling life. The visual arrangements, movements, and bustling activity of life feel beautifully reconstructed. The problem starts to be that the movie feels like a series of moments rather than a larger story, and the argument for many will be that this is by grand design, that Cuaron is intending to comment upon the nature of life and memory through the smaller details, the kind that find their sticking places in our senses, and I do not dispute this intention. However, the end result can approach feeling like watching someone else's dream of their past, a collection of home movies. The entry point for an audience member is going to be narrower because we didn't live these memories. Roger Ebert said that cinema was an empathy machine and with the right storyteller an audience should have no problem being able to experience a plethora of emotions and experiences from a wealth of characters in an array of circumstances and settings. The added problem with Roma is that Cuaron purposely chooses an outsider perspective but also choosees to film it as an outsider. Cleo is an outsider presence, which is a good starting point for drama and contrasts. She's an indigenous Mexican, working poor, and the family member who isn't really family. She floats through different communities feeling like she doesn't fully belong, reminded of what sets her apart and unable to fully immerse herself in her surroundings. She's left her family, her old way of life to move into the city and be a surrogate parent, and when she becomes pregnant she has to question her commitment to having her own child. The character of Cleo has great potential for human drama, though Cuaron seems to idealize her and hold her as a romantic symbol of his childhood, like he's trying to do right by her legacy and memory. She's a little too simplified, a little too selfless, and a little too opaque for the lead of a movie. Being an outsider is a good starting point for a story, allowing insight and criticism. This perspective is nullified by Cuaron's storytelling and filmmaking choices to make the audience feel like a passive observer. Cuaron favors long wide shots that keep the viewer at a relative distance, both literally and figuratively. We're soaking in all the details of the scene but those details are set dressing and visual compositions (Cuaron even imported his family's old furniture). We don't delve deeper into this realm because we are observing it from afar, from the added distance of time. It's like a museum piece of a middle-class Mexican family's life, safe for consumption and minor consideration before an audience is free to move onto the next exhibit. There's a compassion that almost feels clinical, like the artist too afraid to spoil their art. I have no doubt how meaningful the movie is personally for Cuaron but he curiously forgoes the tools to make it more accessible, more open to others to empathize, and more meaningful for people who unfortunately didn't have a Cleo. Roma is a gorgeous movie that is handsomely made and lovingly dedicated to the people who often go unseen and undervalued in a lifetime. It's elegantly photographed and often has the feel of a living dream built from Cuaron's childhood memories. It's well intentioned and with obvious artistic flair. However, when it was all done, all 135 minutes, I felt surprisingly unaffected. It's a movie of moments, some of them vivid and others lyrical, but the outsider perspective and filmmaking choices made it hard to find an entry point and to fully engage in Cleo's plight and the characters as a whole. So much more attention seems to be placed upon recreations of time, place, and people that were meaningful to Cuaron, but that doesn't make them meaningful to me without added efforts. Roma is a quality movie with quality production and an okay story that holds back the intended reach. Nate's Grade: B
Nate Zoebl
Super Reviewer
½
Tough movie to write about! Do you call out the bizarre moments, like the car parking in dog shit or the man in a new year's demon costume singing? That wouldn't do it justice. Sure, it's artsy. It's no tough watch, though. It flows well and once you get the basic idea of what it's about, you can relate to Cleo and the things happening to her. Thankfully, it's no misery porn. The biggest feat are the gorgeous panorama shots, most of which you'd want to hang on your wall as black and white pictures. The movie does feel oddly distanced at times but emotions strike even stronger when they ultimately do, like in the solution. It's easy to admire Roma for its artistry on every level. Award buzz and highlight of the year? I dunno. An unusual and worthy must-watch? Absolutely.
Roma Quotes
There are no approved quotes yet for this movie.