Roman J. Israel, Esq.
(2017)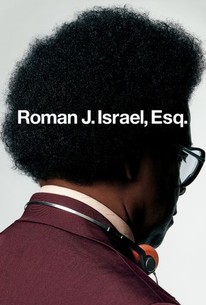 TOMATOMETER
AUDIENCE SCORE
Critic Consensus: Intriguing yet heavy-handed, Roman J. Israel, Esq. makes the most of -- but never quite lives up to -- Denzel Washington's magnetic performance in the title role.
Roman J. Israel, Esq. Videos
Roman J. Israel, Esq. Photos
Movie Info
Roman J. Israel, Esq. is a dramatic thriller set in the underbelly of the overburdened Los Angeles criminal court system. Denzel Washington stars as a driven, idealistic defense attorney whose life is upended when a turbulent series of events challenge the activism that has defined his career. Colin Farrell costars as the ambitious, monied lawyer who recruits Roman to his firm.
News & Interviews for Roman J. Israel, Esq.
Critic Reviews for Roman J. Israel, Esq.
Audience Reviews for Roman J. Israel, Esq.
½
Denzel Washington delivers one of the strongest and most multifaceted performances of his career in a decent, if flawed film that knows how to explore the personality and motivations of such a complex protagonist, even though it nearly gets lost in a confused third act.
Carlos Magalhães
Super Reviewer
After his brilliantly dark urban thriller Nightcrawler in 2015, a lot of eyes were on director Dan Gilroy with an eagerness to see what he'd deliver next. Roman J. Israel, Esq promises to be just as intriguing but it lacks the dramatic drive that made Gilroys's last film such captivating viewing. That said, it boasts a strong lead performance that's enough to maintain your interest. Plot: Roman J. Israel, Esq. (Denzel Washington) is an a idealistic defense attorney who likes to work behind the scenes. However, when his colleague dies suddenly, Roman is forced to look for other work. He's hired by another law firm who have heard of his fastidious approach to the job but by this time Roman has crossed a professional (and personal) boundary that leads to some serious implications and both his job and his life in danger. Dan Gilroy's legal drama opens with an intriguing concept of our main character's intention to have himself disbarred from legal practise by writing a memo that proposes that he will both prosecute and defend himself due to his personal indescretions. From here on it goes on to depict Roman J. Israel Esq. as a socially awkward but very competent and meticulous individual who has a passion for civil rights. Embodying this interesting character is, of course, Denzel Washington who delivers another wonderfully realised character to his already impressive resumé. Washington has been Oscar nominated for his work here and although it's unlikely that he'll win, this is still some solid work. That said, despite his good work, he's not entirely afforded a strong enough script to warrant his commitment. There's a lot of potential here but that's probably what makes it a slightly frustrating affair as it doesn't quite have enough of a dramatic punch to get things moving and Gilroy's decision to go for a more restrained approach, somewhat, takes the wind out the film's sails. Despite its great premise it doesn't really flesh it out when it actually comes to it. It spends plenty of time on the how and why but doesn't really and keep good on its promises. A serviceable legal thriller that has good intentions but ultimately doesn't really go anywhere. That said, it boasts a great lead performance from Denzel and strong, cutthroat support from Colin Farrell but it's just a shame that the film doesn't capitalise on these two as it's left with a script that has an air of mediocrity to it. I enjoyed this slow-moving legal drama but it needed an adrenaline shot and left me feeling that it was a missed opportunity. Mark Walker
Mark Walker
Super Reviewer
½
Denzel (we can call him that and leave it at that, can't we?) does a phenomenal job inhabiting the skin of a 60's style activist lawyer suddenly thrust into the modern day with the hospitalization of his working partner. The upshot is a morality play, the purity of hothouse ethics versus what's going on in the real world, and what does the character actually do? It's an interesting premise, interestingly played out, that unfortunately weakens in the final third. The payoff seems small for such an effort. Still, not a waste of time (as some contend) and Mr. Washington (we can call him that and leave it at that, can't we?) is not alone in his superb delivery, the secondaries all excelling in their parts.
Kevin M. Williams
Super Reviewer
Roman J. Israel, Esq. Quotes
There are no approved quotes yet for this movie.