Romance & Cigarettes
(2007)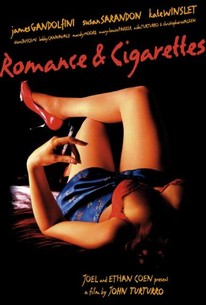 TOMATOMETER
AUDIENCE SCORE
Critic Consensus: This movie musical aims for fun and modern, but Romance and Cigarettes is too scattered and uneven to achieve either.
Romance & Cigarettes Photos
Movie Info
Nick is a New York ironworker married to Kitty, a strong but gentle woman with whom he has three grown daughters. He is secretly carrying on a torrid affair with the flame-haired Tula. When his wife catches him and Tula wants a commitment, Nick finds himself a prisoner of his primal urges. A good man at heart, he must find his way back to his family before he runs of out chances. Drawing on inspirations as diverse as Charles Bukowski and "The Honeymooners," this romantic adventure features songs that are anthems of our time--from James Brown, Janis Joplin, Engelbert Humperdinck, Tom Jones, Bruce Springsteen, and more--which illuminate the characters' hopes and dreams. When pushed to their breaking points (and beyond), these conflicted characters break into song, singing along--sometimes lip-synching, sometimes in full voice--with the music lodged in their subconscious.
Critic Reviews for Romance & Cigarettes
Audience Reviews for Romance & Cigarettes
½
In agreement with Jim Hunter, unless you're Paul Thomas Anderson, having actors sing along with a recording of a song IS "remarkably lame." And especially since so much of Turturro's spoken dialogue has such intriguing rhythms (Kitty's "deep" poem), he should have gone the extra mile and hired a real composer. As is, the songs aren't as thematically relevant as the ones in, say Singin' In the Rain or Moulin Rouge, exemplars of this musical subgenre in which popular songs are put into a movie instead of originally written for it. Kate Winslet though. Man, has she got that va-va-vavoom! Love her trashy accent, her trashy dancing, her trashy talk.
Alice Shen
Super Reviewer
An adulterous man deals with his unpredictable mistress and vengeful wife ... with songs. When I read the basic genre details about this movie, I was excited to see John Turturro's audacious musical, but I hardly consider this a real musical. After all, almost all the actors, with the exception of Mandy Moore, sing along with a recording of the song. Am I the only one who sees this as remarkably lame? Structurally, this film is a mess. We are introduced to the offending mistress way too late into the film, and when we're meant to feel for her and suspect that she has true feelings for the adulterous man, it's too late for us to have any emotional attachment. Likewise, the subplots involving Mandy Moore's character and Cousin Bo's laments come in too late so that they seem like diverging storylines, not foils nor a complete exploration of the main characters' lives. Overall, the plot of Romance and Cigarettes seems like as if everybody in the neighborhood had an idea, and every idea found its way into the script with little coherence.
Jim Hunter
Super Reviewer
Imagine,if you will, a college film school assignment to create a modern day musical ground in the late 50's and early 60's. Imagine if the student putting together such a film was able to pull in some serious heavy hitters, from Gandolfini and Walken, to Surandon and Winslett. Imagine the possibilities... I'm sure that somewhere in time, worlds collide and a film like this gets made - in part genious, in part juvinile hackism, in part serious drama and in part farcical over the top fun. Thus I give you Romance and Cigarettes, which prooves that John Turturro probably smoked too much pot in college - yet holds within it something almost magical. Garbagemen dancing to "A World Without Love" probably says all you really need to know - it's brilliant, but at the same time it's almost laughably obvious that someone is yanking your chain *wink, wink*. Christopher Walken channeling Elvis and then later crooning along with Tom Jones on Dalilah. Susan Surandon grooving along with the Dusty Springfield version of "Piece of My Heart", while Eddie Izzard backs her up on church organ - all you can say is "wow", especially when the tune switches into the Joplin version, with Surandon howling like a cat in heat. Through it all there are so many things that just don't mesh and charactors who aren't fully developed. Wasted are Aida Turturro and Mary-Louise Parker, playing Surandon's children (although there is a humerous moment where they are in a girl band singing "I Want Candy" as Bobby Canaval strutts like a peacock (and his "Hot Pants" is hilarious). Making it all worthwhile (aside from some very nice photography from the always stellar Tom Stern (see just about every Eastwood film ever made - Stern is always there), is a guttsy, no holds barred romp by Kate Winslett as the red headed embodiment of carnal love. She's bold and bawdy, with a wonderful accent - but when the film has to resort to a cat fight between Kate and Surandon - well, that just shows how wrong some of the choices were. I'm sure that the principal actors had a ball with this, but really, the film can't be taken seriously, though I think that serious was somewhere in its resume. An A for trying, a C in execution.
paul sandberg
Super Reviewer
Romance & Cigarettes Quotes
There are no approved quotes yet for this movie.