Romancing the Stone
(1984)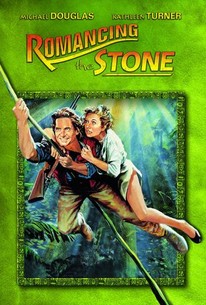 TOMATOMETER
AUDIENCE SCORE
Critic Consensus: Romancing the Stone reaches back to the classic Saturday morning serials of old with an action-filled adventure enlivened by the sparkling chemistry between its well-matched leads.
Romancing the Stone Photos
Movie Info
In this film, adventure writer Kathleen Turner learns that her sister is being held prisoner by evil art dealers in Colombia. It seems that sis has mailed Turner a map leading to a valuable treasure. In her search for the treasure, Turner teams up with soldier of fortune Michael Douglas.
Critic Reviews for Romancing the Stone
Audience Reviews for Romancing the Stone
A woman goes to Colombia to rescue her sister who has been kidnapped by "bad guys." Joan Wilder, Kathleen Turner's character, writes cliche adventure stories, then - shocking irony! - gets caught in a real-life adventure story with a fantasy-borne mercenary. Coincidences like this only occur in films like this, and the construction of the Wilder character is misogynistic, as she serves as a doe-eyed damsel in distress, never rising to anything about a screaming, high-pitched type, more annoying than remotely compelling. But, you might say, Jim, it's a fantasy-comedy. Well, in that case, it's neither fantastical nor funny. Stuck in faux-realism, the crazy, over-wrought performances are more the matter of sitcom than film. Overall, this film is stupid.
Jim Hunter
Super Reviewer
½
Is there any film that Douglas stars in where he doesn't manage to show or reveal bits of his anatomy?...mainly his ass. An early Zemeckis film with a cast that would reunite a few times after but was it any good? yeeeaa no. Made a few years after another certain popular fedora wearing adventurer you could be forgiven for thinking this was a poor mans rip of that franchise. Indeed the whole look of the film is similar but instead of hot yellow desert sands we have wet sweaty green jungle, plus its set in the present day of 84. Personally I really can't see why this was a hit upon release. The plot is quite a mess with many people all running around after other people and a map, poor action sequences, uneventful twists and dull villains...if any. I don't wanna mention 'Indy' but I just can't help it hehe. Douglas's character is decked out in virtually the same kind of gear and he has a silly macho type of name. Both him and Turner run around the jungle dodging snakes, soldiers, large ravines, crocodiles and drug runners doing pretty much what you would expect this type of film to offer albeit in a slightly more grown up fashion. Douglas really isn't the right kind of leading man for this type of film, the guy always was so sleazy looking. Devito also struggles to inject anything into the film in my view despite clearly being stuck in it for comedy, the guy is not right for fast paced actions films. Overall the casting was horrible if you ask me, worst line up ever!. Total hit and miss for me, really didn't like anything going on, found it dull and cliched. A typical mix of 'Indy' and 'Bond' yet adding nothing new or exciting to the fold. Had it come out before other films then it may have been a different story, oh and the films poster is way better than the actual film (common issue with some old 80's films).
Phil Hubbs
Super Reviewer
½
After Indiana Jones' triumph in the early 1980s, Hollywood realized there is money to make in adventure films about treasure hunts. This film is by no means a rip off of the archaeologist's adventures, but some elements are there. We have a wise-cracking daredevil adventurer, bantering with the female lead, a rope bridge, animals, jungle and of course a treasure map. Add a typical 1980s soundtrack and you have the generic action comedy from that era, but one that still entertains really well. The film doesn't take itself too seriously and counters a few surprisingly violent scenes with lots of humor and a couple of decent action sequences. It may feel like a guilty pleasure today, but for its time this was quite a spectacular film.
Romancing the Stone Quotes
| | |
| --- | --- |
| Jack Colton: | I could've been a cosmetic surgeon. Five hundred thou a year, up to my neck in tits and ass. |
| | |
| --- | --- |
| Ralph: | I'm about to have a close encounter with a cattle prod. |
| | |
| --- | --- |
| Joan Wilder: | "Everyone gets sick in department stores" |
| Joan Wilder: | Everyone gets sick in department stores. |