Rome Adventure
(1962)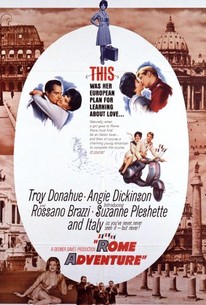 AUDIENCE SCORE
Critic Consensus: No consensus yet.
Movie Info
A young librarian at an all girl school appropriately named Prudence (Susan Pleshette) is reprimanded for recommending a racy, controversial book about love. She decides to head for Italy, the romance capital of the world. There she meets Roberto (Rossano Brazzi), who is more than willing to be her tender hearted tour guide. She meets Don (Troy Donahue) an art student with a pompadour and a motorcycle. Don has eyes for dear Prudence, but must get rid of his old girlfriend Lyda (Angie Dickinson). All the action takes place on a colorful tour throughout Italy.
Critic Reviews for Rome Adventure
Audience Reviews for Rome Adventure
The good: the extraordinary footage of Italy, Rome, Lake Maggiore, and the Italian Alps in particular. If you're not up for an early 1960's romantic comedy, watch portions of it just as a travelogue. You may smile at the complete absence of crowds in most scenes, but that's ok. Another nice point is the soundtrack, which has some sweet, romantic songs. Both of these create a mood conducive to love, and are the main reasons to watch the film. As an added bonus, you get Suzanne Pleshette in just her second movie, as well as Angie Dickinson, and both turn in reasonably good performances; Pleshette the strong young woman finding herself falling in love, and Dickinson displaying some pretty fierce cattiness. The bad: the script. Aside from the usual romcom formula which I personally can look past, there is so much sappiness in some scenes, such as the one where the young lovers comment on raindrops rolling down a window, that I thought it was about at the middle-school level of writing (and that may be insulting to middle-schoolers). In addition to that, Troy Donahue is so wooden he's almost robotic. I know he was (and perhaps still is) a heartthrob to women, but my god, he's so bad you may laugh out loud. The ugly: the sexism. There are two sides to this type of thing in an old movie: on one hand, it does reflect the time period, so even as we shake our heads over some things, it is educational. On the other hand, you may cringe as Pleshette's friend in the bookstore says she stayed in Italy because, as she puts it, "The first time a good-looking Italian man pinched my bottom, I said, 'This is for me!'" You may also of course laugh over such a line, and then cringe. Near the beginning a very recent acquaintance to Pleshette enters her room, holds her slinky nightgown up to her, and wonder aloud what her body would look like in it. In the middle in the jazz club, you'll see a friend of Donohue's call his girlfriend over to their table, and then display "this chick I picked up in Capri" as a piece of meat, leering and ogling as she turns back and forth, imploring Donhue to "dig her figure", all without her saying a word. There are others but I'm going on too long as it is. It's not so bad as to be outrageous (depending on where your line is), but it does go so counter to Pleshette's strong stand against book censorship in the beginning of the film that is extra disappointing.
Antonius Block
Super Reviewer
It may be adorable in its first hour with that lovely song and those beautiful locations, but this corny melodrama soon shows us why it is so ridiculously outdated now with its wholesome, moralizing view of love, sex and old-fashioned chivalry (an ugly euphemism for sexism).
Carlos Magalhães
Super Reviewer
½
Simple predictable story, but I enjoyed seeing all the sights of Rome again. I don't know if I would have watched it save for the fact we just spent some time in Rome.
Rome Adventure Quotes
There are no approved quotes yet for this movie.