Romeo and Juliet
(2013)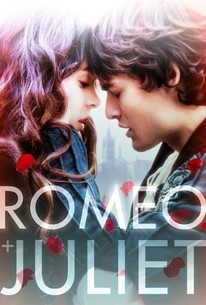 Movie Info
Romeo and Juliet, William Shakespeare's epic and searing tale of love, is revitalized on screen by writer Julian Fellowes (Downton Abbey) and director Carlos Carlei (The Flight of the Innocent). An ageless story from the world's most renowned author is reimagined for the 21st Century. This adaptation is told in the lush traditional setting it was written, but gives a new generation the chance to fall in love with the enduring legend. With an all-star cast including Hailee Steinfeld, Douglas Booth, Paul Giamatti and Stellan Skarsgaard, it affords those unfamiliar with the tale the chance to put faces to the two names they've undoubtedly heard innumerable times: Romeo and Juliet. Every generation deserves to discover this lasting love. (c) Relativity
News & Interviews for Romeo and Juliet
Critic Reviews for Romeo and Juliet
Audience Reviews for Romeo and Juliet
½
This is the latest British/Italian/Suiss adaptation of William Shakespeare's romantic tragedy of the same name directed by Carlo Carlei. Like Franco Zeffirelli's adaptation of Shakespeare's tragedy, this film uses the traditional setting of Renaissance Verona, but, unlike any of the previous major film adaptations only follows the plot and only uses some of Shakespeare's traditional dialogue. This has led to a controversy, with several critics denouncing the film's advertising as misleading, and losing the essence of the play. Maybe, but I really think this is the best version to attract the audience which never read or watched the play... especially any school children. We have Douglas Booth as Romeo Montague and Hailee Steinfeld as Juliet Capulet - both gorgeous young acting stars, and they did pretty good job. Many critics loudly complain about lack of passion, but I did not notice that at all! Even Damian Lewis as Lord Capulet, Kodi Smit-McPhee as Benvolio Montague, Ed Westwick as Tybalt and Paul Giamatti as Friar Laurence did a good job... actually, the last one did amazing job. Hailee Steinfeld was said to be in talks for the lead role as Juliet in this adaptation, but due to Steinfeld's young age, there was some concern she would be asked to appear nude in the film. Director Carlo Carlei explained "there was a lovemaking scene that included nudity for the married Romeo and Juliet. This script was written with a 20-year-old actress in mind. As soon as Hailee Steinfeld was cast, all nudity and lovemaking have been excised from the script. It will be romantic and age-appropriate for a 14-year-old." Julian Fellowes added, "We did feel it would be nice to have romantic, married love, and that purity was an important part of the film. They don't make love until they have been married." It was a different time, back then! Tony Howard, in his Around the Globe review writes that the film is "unique in its disrespect for the play, the actors, and young people". I really have no idea what is he talking about! It was an interesting film which managed to present the difficult play in the way which is closest to the understanding of the younger generation! Check it out!
½
Man, it took them so long to make this film that they were talking about it back when Hailee Steinfeld was still getting work (You'd figure that Oscar nomination would have kept her busy since 2010), and now that it's out, they're not really talking about it. I guess this story has been done to death so much that people just aren't that interested in seeing it again, but rest assured that there is still room for uniqueness in interpretations of this story, because this time around, they actually got teenagers to play the leads, and... changed Shakespeare's dialogue. Okay, maybe people aren't really talking about this film because they know that a bunch of art snobs would come out and boycott it for changing sacred text or something, because to do that really does take... get ready... [b]"true grit"[/b]! Oh yeah, forget Jeff Bridges and his awesome eyepatch, because real men with guts... slightly alter the script of William Shakespeare's "Romeo and Juliet", which is, like, so hardcore to the extreme! Come to think of it, I don't know why they don't make that a selling point, because this story has always been kind of teen-oriented, yet today's teens are such little anti-aesthetic, know-it-all punks that they've no respect for Shakespeare's original text. Oh, it's not like the makers of this film care about maxing out commercial success, as this film is clearly made for artistic purposes, as evidenced, not so much by its making such audacious writing decisions, but by the fact that it's so uninteresting that I just spent a paragraph rambling on about how they changed Shakespeare's dialogue. It's not even like you notice all that much, because the film is still set in Renaissance-era Verona, Italy, where they're still talking all of that ye olde... English and whatnot (I figured it would be Italian, but hey, apparently Shakespeare was also one to change the words you'd expect to be put into people's mouths), so this is no more unfaithful than "Romeo [u]+[/u] Juliet", although it's not quite as successful with making up for its questionable aspects, for a couple of reasons. Certainly, this source material has been done to death, more-or-less to the point of making this adaptation feel somewhat inconsequential, but even outside of that, the storytelling structure of this particular take on an overexplored property hits tropes which are overexplored in other dramas of this nature, leaving it to feel all but tired, no matter how much the filmmakers try to freshen things up. Again, the key novelty with this adaptation of William Shakespeare's legendary melodrama is its making modifications to the distinct dialogue, if not a couple of iconic set pieces, and really, I can't help but feel as though people are making a bigger controversy out of this audacious move than they need to, though that isn't to say that I don't also have my complaints about writer Julian Fellowes' decisions, not so much because he changes practically sacred text, but because he can't seem to fully decide on the degree to which he makes his changes, providing plenty of Shakespearean polish, while still bringing the dialogue far enough down to earth for you to be somewhat distanced from Shakespeare's mythology, and feel just how far-fetched both the dialogue and, for that matter, subject matter is. No matter how compelling this classic subject matter is in a lot of ways, both in concept and in this execution, it really is a definitive melodrama, complete with starry-eyed star-crossed romance and an overblown conflict, backed by questionably drawn characters who, alongside the romance and conflict, were a little easier to get over when an intentionally sentimental story stood behind more intentionally sentimental writing. Again, the modifications made to Shakespeare's text are not that substantial, yet the filmmakers' struggle to figure out if they want to reimagine Shakespeare's imagination or try to bring Shakespeare's imagination as much back into reality as it can broadens the holes in Shakespeare's hopelessly histrionic, but sharply written opus, although it might not so much be the lack of stylistic decisiveness that shakes investment, as much as it is the overt passion to bring some kind of new life to an age-old tale. I feared that resonance would most be shaken by too much of the dryly bland thoughtfulness that has slowed down the momentum of plenty of other overambitious Shakespeare adaptations, yet it's ironically too much color that shakes engagement value, for although the sentimentality is generally genuine, there are times in which director Carlo Carlei gets carried away with saccharine plays on an emotive score and the histrionic narrative structuring, to the point of cloying with only so much assurance. When it's all said and done, the big problem with this film is simply a lack of full realization, for although both ambition and inspiration are present, there's only so much effort being put into rounding out this effort, which is ultimately too ambitious and formulaic for you to disregard the legendary histrionics and sentimentality which solidify the final product as overblown and underwhelming. Nonetheless, what the film does right it does better than many are saying, falling short of rewarding, of course, but standing as serviceably entertaining and aesthetically pleasing. If no other form of faithfulness within this somewhat loose adaptation of a triumph of the Renaissance era of the art industry is earning attention, it is the decision to be the first major "Romeo and Juliet" adaptation since Franco Zeffirelli's 1968 adaptation to set this story during Renaissance Verona, Italy, which is worthy of receiving attention, as this period drama's era goes captured subtly, yet surely through distinguished production and costume designs that, with tasteful stylistic choices in filming, establish uniquely handsome visuals. I don't know if this film is quite as aesthetically rich as many of the critics are admitting it is, but make no mistake, there is at least plenty of value within the art direction of this somewhat narratively misguided interpretation of a classic English-language, or rather, Shakespearean-language Italian affair, and that reflects a certain inspiration which is further pronounced by genuinely effective areas in the execution of this melodrama. The decision to modify Shakespeare's text is questionable, partly because it seems unnecessary, and partly because there isn't enough realization to the changes for you to bond with either Shakespeare's vivid imagination or a more relatively realistic take on the story's setting's dialect, yet such a move reflects a boldness within the writing that drives Julian Fellowes to craft a still pretty tight script, with sharp dialogue, both faithful and liberal, in addition to well-staged set pieces which draw you into the story. Really, the quality of this film overall is ultimately most determined by how much the filmmakers do justice to its subject matter, which is, of course, legendary in its being so melodramatic, - as the sentimentality and struggles to modify a storytelling style that we've kind of gotten used to through the ages will stress to you through a sense of overambition - but ultimately nothing short of worthy, with intriguing conflicts and memorable characters through all of the over-imaginativeness, sold adequately by the writing that I've criticized and complimented, as well as by the direction that is also about as worthy as praise as criticisms. Again, Carlo Carlei's directorial storytelling gets to be sentimental in its tenderness, but ambition is ultimately met by enough inspiration within the aforementioned fine style and tasteful celebration of near-hauntingly lovely, if sentimentality scoring by Abel Korzeniowski that sustains entertainment value, punctuated by enough thoughtful realization to move with genuine-seeming depths (I don't care how many different ways I've seen it, that ending sure is moving when handled right), further brought to life through all of the sentimentality and overambition by performances which rarely lose the genuine inspiration that is so limited within overblown storytelling. Admittedly, Ed Westwick is near-aggravatingly hammy as Tybalt, yet he is luckily ultimately underused in comparison to the rest of this talented cast, from which plenty have opportunities to stand out, though not quite as much as leads Douglas Booth and Hailee Steinfeld, each of who project impressive dramatic layering and emoting to drive the conflict behind a melodramatic romance that the leads further sell through fine chemistry. Booth and Steinfeld, while too underwritten to be truly revelatory, show that this age of young talents is the time to keep faithful to Shakespeare's vision of youths as the legendary titular star-crossed with solid lead performances that drive the film more than Carlei and Fellowes, who still bring enough to the table to bring the final product to the brink of rewarding, in spite of lapses in potential fulfillment. When it's all said and done as it has been time and again, with a few changed words, that is, conventions and uneven writing stylizations to the nonetheless sentimentally overambition telling of a histrionic story secure the final product as underwhelming, but just barely, as handsomely stylish art direction, haunting score work, reasonably inspired writing and direction, and strong performances - particularly those between leads Douglas Booth and Hailee Steinfeld - ultimately prove to be enough to make Carlo Carlei's and Julian Fellowes' "Romeo and Juliet" yet another decent, if flawed telling of a classic melodramatic tale. 2.75/5 - Decent
Cameron Johnson
Super Reviewer
½
GORGEOUS scenery and costumes. Completely gorgeous. Some not bad delivery. Eh.
Jennifer D
Super Reviewer
Romeo and Juliet Quotes
There are no approved quotes yet for this movie.