Romeo Is Bleeding
(1993)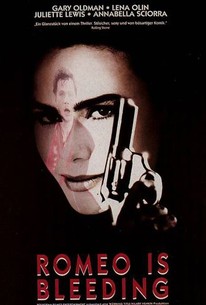 Movie Info
Lena Olin stars as a wicked female mobster who is supposed to be eliminated by a hired hit man (Gary Oldman). Oldman finds that this gal is more than he'd bargained for.
Critic Reviews for Romeo Is Bleeding
Audience Reviews for Romeo Is Bleeding
Gary literally saves this movie from just being another crime and double-agent clusterfuck like so many noir films that tried too hard to be noir. Everyone has an angle and the jazz music ensues, I'll be damned if I don't like it though.
Greg Afilmlovingweirdofromcali
Super Reviewer
½
films like this give noir a bad name. oldman's voiceover is irritating, the script is all over the place and the final result is more sleazy than stylish. almost quit on it a couple times but it kept promising to get better...then went completely off the deep end. the only thing worth watching here is lena olin's psychotic lingerie-clad hitwoman. she's pretty great. what a waste
Stella Dallas
Super Reviewer
½
Olin is fantastic, but the movie is overcooked.
Romeo Is Bleeding Quotes
| | |
| --- | --- |
| Jack Grimaldi: | I try to stop thinking. Try to get my head straight. If I could just get my head straight... then everything would be all right. |
| Jack Grimaldi: | I try to stop thinking. Try to get my head straight. If I could just get my head straight, then everything would be all right. |
| | |
| --- | --- |
| Jack Grimaldi: | People think that Hell is fire and brimstone and the Devil poking you in the butt with a pitchfork, but it's not. Hell is when you should have walked away, but you didn't. |
| | |
| --- | --- |
| Jack Grimaldi: | Maybe it was just his imagination, but whenever he'd pull up that plate, he'd hear a... sucking sound. It started out small, with the first 65 grand. And then it got bigger. Pretty soon it was the only thing he heard. Pretty soon, all he could think about was feeding the hole. He didn't think about when he was a kid. He didn't think about the guys who he started who were still on the up-and-up. He didn't think about the dreams he had with Natalie. He didn't think about those Feds lying there. Most of all, he didn't think about Mona Demarkov, because the way he saw it, she was done. Just another 65 grand for the hole. He fed the hole and he made the hole happy. It was the only thing he knew how to make happy. |
| Jack Grimaldi: | Maybe it was just his imagination, but whenever he'd pull up that plate, he'd hear a sucking sound. It started out small, with the first 65 grand. And then it got bigger. Pretty soon it was the only thing he heard. Pretty soon, all he could think about was feeding the hole. He didn't think about when he was a kid. He didn't think about the guys who he started who were still on the up-and-up. He didn't think about the dreams he had with Natalie. He didn't think about those Feds lying there. Most of all, he didn't think about Mona Demarkov, because the way he saw it, she was done. Just another 65 grand for the hole. He fed the hole and he made the hole happy. It was the only thing he knew how to make happy. |
| | |
| --- | --- |
| Jack Grimaldi: | You ever seen a ghost? There's this guy. Comes in here. Every May 1st. Every May 1st, every December 1st. Like clock work. What's he want? Well, frankly, I ain't exactly sure. He had the strangest story to tell. He left this here and I keep it for him. How do I know he'll be back? What's that? A woman was involved? Hm, just fits. I was married once myself. Beautiful girl. By the way my name is Jim Daurighty. I run this place. His name? Sure. His name is Jack Grimaldi. Hey, there he is now! |