Ronja Rövardotter
(1984)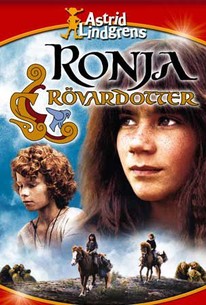 AUDIENCE SCORE
Critic Consensus: No consensus yet.
Movie Info
Well-known Swedish author Astrid Lindgren (the "Pippi Longstocking" series) wrote the screenplay for this entertaining fantasy about Ronya, a 10-year-old girl (Hanna Zoetterberg) who lives quite happily in her father's castle and has no problems until she comes across Birk (Dan Hafström), a playmate encountered in the dark and fascinating forest near the castle. Birk and Ronya explore the wilderness with great courage and curiosity, braving the dangerous Witchbirds and Rump-Gnomes as they go along. But their respective families are angry when they find out the two children have been playing together, and they forbid them to see each other again. The fathers of Birk and Ronya are bitter enemies -- they are robber chieftains leading opposing forces. It will not be easy for the two spunky children to tear down the barriers that have kept their families apart for so long.
Audience Reviews for Ronja Rövardotter
I grew up reading Astrid Lindgren's books. Of course I also spent some time with some more international writers but at that time 'Pippi Longstocking', 'Emil' and 'Mio in the Land of Faraway' seemed a bit more interesting for a young boy from Scandinavia. 'Ronja: The Robber's Daughter' remains as one of my favourite childhood events. I've read the book and seen the film several times. After a long pause, I watched it again and all I can say is that the magic still remains. First of all, this is not a film only for children but a perfect movie for the whole family. 'Ronja' has something for everyone; imaginative creatures for those fantasy fanatics, beautiful nature images for all wanderers and, most importantly, a story that will effect each and everyone. The main characters in the film, a daughter and son from rival gangs, are 11 year old kids who seek for adventure and end up finding a strong friendship. I could easily relate to the kids cause I had similar thoughts when I grew up. I've lived far away from big cities, near the wild, when growing up. This is what we did! Played in the forrest, enjoyed the fresh air etc. Something that many kids nowadays aren't doing... But all kids, no matter what generation they're from, have something in common... Parents can be a pain in the ass! 'Ronja' also features one of my favourite creatures ever seen on film. These creatures are called "Rumpnisse". I'm not sure if there's a translation for this word but everytime I saw them, my mouth couldn't stop smiling! "Vafö då då?" 'Ronja' is, as said before, a perfect family movie. There's enough excitement to keep the more mature audience interested and the younger ones on the edge of their seats. There's very little violence and when there's fight scenes going on, they tend to go more on the funnier side. And one thing I have to mention is the songs! Very enjoyable! The characters are lovable and the acting decent. As a curiosity, Hanna Zetterberg who plays Ronja, never continued her career after this film. 'Ronja' remains as my favourite Astrid Lindgren story and is highly recommended to all who want to see a movie that concentrates on the characters and the story instead of special effects and big budgets.
Ronja Rövardotter Quotes
There are no approved quotes yet for this movie.