Room 6
(2006)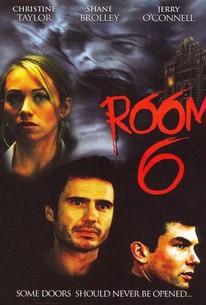 Movie Info
A young schoolteacher with a serious fear of hospitals must face her worst fears when her boyfriend is injured in a car accident and spirited away to a nightmarish medical center where demons don medical scrubs and nefarious nurses bathe in the blood of their suffering patients. Amy's (Christine Taylor) boyfriend has just been involved in a major car accident, but when Amy receives word that her boyfriend has been taken to a hospital that no longer exists, she determines to face her fears and bring her boyfriend back home no matter what horrors await her. Accompanied by a concerned stranger (Jerry O' Connell) who remains steadfast in his determination to solve the mystery of St. Rosemary's, Amy is forced to enter a hallucinatory world of soul-shredding terror where nothing is as it seems and unspeakable horrors lie down every dark and lonely hallway.
News & Interviews for Room 6
Critic Reviews for Room 6
Audience Reviews for Room 6
½
A disappointing film. Sure there was that lesbian-blood-orgy bit in the middle there, but over all I can't give it a pass. Maybe with a bit more of a budget they could have succeeded somewhere but even that doesn't seem particularly likely.
Some Doors Should Never Be Opened ...
Great movie, the ending was a bit disappointing, but I would watch it again!
paganchild1979 pc79
Super Reviewer
Room 6 Quotes
There are no approved quotes yet for this movie.