Room at the Top
(1959)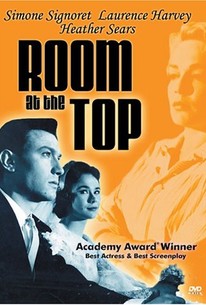 Movie Info
Ruthless young working-class Englishman Laurence Harvey takes a job in a North Country village controlled by millionaire Donald Wolfit. Harvey resents Wolfit's class consciousness and vows to rise to the top by wooing the millionaire's daughter, Heather Sears. Meanwhile he has an affair with Frenchwoman Simone Signoret. Though he regards Signoret as a mere self-gratifying conquest, she takes their romance seriously enough to kill herself when Harvey impregnates Field. Only as he leaves the chapel after marrying the millionaire's daughter does Harvey that his "smart" marriage, coupled with the guarantee of a fabulous business career, has been attained at the cost of his soul. Based on the novel by John Braine, Room at the Top was one of the most successful films of the British angry-young-man school; it later spawned two sequels, as well as a weekly TV series. ~ Hal Erickson, Rovi
Critic Reviews for Room at the Top
Audience Reviews for Room at the Top
A man who doesn't define himself is trapped, attached by the forceful and heavy chains of what society decides is best for him. If he conceals or denies his true self, the rest of the world will be oblivious, knowing he is nothing more than just another puppet among the million they own. Incredibly brave and provoking character study.
Pierluigi Puccini
Super Reviewer
A powerful, influential movie. The launch point of the British New Wave, "Room at the Top" is more conventionally made than many of the '60s "kitchen sink" films that followed in its wake, yet its emotional punch is as hard as any works of its genre. A great script, and great acting from top to bottom. Laurence Harvey is iconic as the cold, ruthless, ladder-climbing Joe Lampton, and Simone Signoret's performance as his mistreated lover won the Best Actress Oscar (though her secondary part isn't as central as typical roles that win the award).
Eric Broome
Super Reviewer
Beautiful performance by Simone Signoret, completely deserving of the Oscar awarded, and perhaps a career best one from Laurence Harvey in this fine examination of naked ambition, wrong choices and the price paid for them.
Room at the Top Quotes
There are no approved quotes yet for this movie.