Rory O'Shea Was Here
(2005)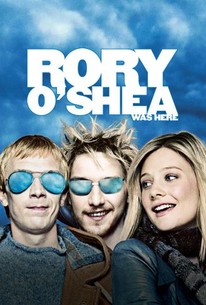 TOMATOMETER
AUDIENCE SCORE
Critic Consensus: The dramatic aspects of Rory O'Shea Was Here veer into mawkish, formulaic sentiment, which undercuts the characters' individuality.
Rory O'Shea Was Here Photos
Movie Info
Michael is a twenty-four-year-old who has cerebral palsy and long-term resident of the Carrigmore Residential Home for the Disabled, run by the formidable Eileen. His life is transformed when the maverick Rory O'Shea moves in. Michael is stunned to discover that fast talking Rory, who can move only his right hand, can understand his almost unintelligible speech. Rory's dynamic and rebellious nature soon sparks a flame in Michael, introducing him to a whole new world outside of Carrigmore.
Critic Reviews for Rory O'Shea Was Here
Audience Reviews for Rory O'Shea Was Here
½
Since I am disabled I do not feel as guilty rating this movie on the low end. It was predictable and little new to the plight of the disabled was offered. The sweet story at the heart of this film is lost in the "look at me act" disabled. Steven Robertson does and excellent job.... but I get tired and frustrated with him as I try to understand his character. Tired to the point of losing interest.
Thomas Johnston
Super Reviewer
½
On one hand, I think I should be cynical about this film: suggest it is emotionally manipulative and functions on the "strength" of its cliches. After all, it features two men with severe disabilities and attempts to prove the thesis that we should all carpe diem. These are not new themes, nor is it new to have an inspirational cripple story. On the other hand, I was thoroughly impressed by McAvoy's and Robertson's performances. Both were exceptionally convincing in their characters and their characters' disabilities (Robertson especially), and Garai turned the role of "the girl" into a sweet but tough feminist. But these are tangential to the fact that all of emotional manipulation worked on me. I found myself affected by the story even as I realized its cliche predictability. Rory O'Shea Was Here is like a one night stand: it doesn't amount to much the next morning, but the "during" sure was enjoyable.
Jim Hunter
Super Reviewer
CAST: James McAvoy, Steven Robertson, Romola Garai, Brenda Fricker, Gerard McSorley, Tom Hickey DIRECTED BY: Damien O'Donnell SUMMARY: When Rory O'Shea (James McAvoy) moves into a home for the disabled with a diagnosis of muscular dystrophy and befriends a deeply bored young man with cerebral palsy (Steven Robertson), he infuses his pal's life with renewed hope, even as he struggles with his own demons. O'Shea refuses to surrender to the desperation of his life, choosing instead to embrace the potential in everyday opportunities. Romola Garai co-stars in this uplifting drama. MY THOUGHTS: "Probably now my favorite James McAvoy movie. It was funny, heartwarming, and inspiring. The story is strong and you really start caring for the two lead characters. The acting is superb. Rory has muscular dystrophy and not much time left in this world. He's determined to make every moment of it enjoyable. He rebels against his disease and everything they say is impossible for him to do. He refuses to not live. That's so inspiring. He becomes fast friends with Michael. Michael has cerebral palsy and has lived in an institution his whole life. He's never dreamed of a life outside of the institution, but on a trip to a meeting Rory has to be granted independent living inspires Michael to want the same. It's unbelievably sad that the disabled have to ask permission to live freely like others their age, when the rest of us take that freedom for granted. This isn't just a movie about two disabled guys. Its a look at a piece of their lives and their fight for independence and the fun they have along the way. I loved it. For those who aren't interested you should give it a chance. Great film.."
♥˩ƳИИ ƜѲѲƉƧ♥
Super Reviewer
Rory O'Shea Was Here Quotes
| | |
| --- | --- |
| Rory O'Shea: | You've got the future, Michael. That's what I call a gift. You can't give it up! |