Rose Marie
(1936)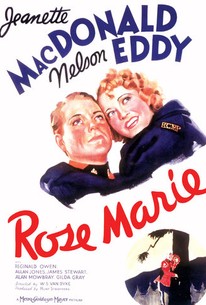 Movie Info
It was standard operating procedure at MGM to cast their favorite singing team of Nelson Eddy and Jeanette MacDonald in new versions of old operettas, then retain only the music, drastically altering the plotlines to conform to popular tastes. This was the treatment afforded the Rudolf Friml-Herbert Stothart-Oscar Hammerstein-Otto Harbach musical Rose Marie--and thank heaven that MGM decided to jettison the original's creaky libretto about a woman who offers her body to the villain to save the hero from a trumped-up murder charge (this chestnut seemed old-fashioned even in 1928, when Joan Crawford starred in the silent version). In lieu of this wearisome storyline, the Eddy-MacDonald version casts MacDonald as a spoiled, temperamental Canadian opera star who learns that her uncontrollable brother (James Stewart), serving a prison sentence, has escaped to a cabin in the North Woods and needs someone to tend his wounds. MacDonald travels to northern Canada incognito, where in a hilarious sequence she tries and fails to pass muster as a dance-hall girl. Upon meeting likeable mountie Nelson Eddy, who unbeknownst to her has been assigned to locate her brother, MacDonald fabricates a story about needing an escort for a rendezvous with her lover. Such latter-day parodies as Dudley Do-Right notwithstanding, the Eddy-MacDonald sequences are often deliberately played for laughs, even when Nelson is uttering such lines as "Heavy? Why, I could carry you for hours!" Gradually, Nelson and MacDonald fall in love, only to fall out of love when Nelson tracks down and captures MacDonald's brother. Despite this rift, a happy--and logical--ending is not long in coming. It might be hard to watch such Eddy-MacDonald duets as "Rose Marie" and "Indian Love Call" with a completely straight face; it is reassuring, however, to find out that the filmmakers knew that "Rose Marie" was ripe for ridicule, and decided to laugh at themselves first in order to disarm the audience. To avoid confusion with the 1955 remake, the 1936 Rose Marie was retitled Indian Love Call for TV showings.
Critic Reviews for Rose Marie
Audience Reviews for Rose Marie
Although the movie has some funny parts, and good drama at times, the music is annoying, and it's predictable. Stewart has a part at the end, so that was interesting to see. Other than that, it's just so-so.
Rose Marie Quotes
There are no approved quotes yet for this movie.