Rosemary's Baby
(1968)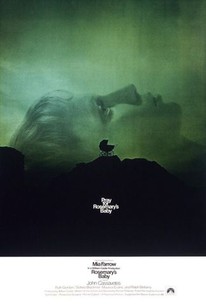 TOMATOMETER
AUDIENCE SCORE
Critic Consensus: A frightening tale of Satanism and pregnancy that is even more disturbing than it sounds thanks to convincing and committed performances by Mia Farrow and Ruth Gordon.
Movie Info
In Roman Polanski's first American film, adapted from Ira Levin's horror bestseller, a young wife comes to believe that her offspring is not of this world. Waifish Rosemary Woodhouse (Mia Farrow) and her struggling actor husband, Guy (John Cassavetes), move into the Bramford, an old New York City apartment building with an ominous reputation and only elderly residents. Neighbors Roman and Minnie Castevet (Sidney Blackmer and Ruth Gordon) soon come nosing around to welcome the Woodhouses to the building; despite Rosemary's reservations about their eccentricity and the weird noises that she keeps hearing, Guy starts spending time with the Castevets. Shortly after Guy lands a plum Broadway role, Minnie starts showing up with homemade chocolate mousse for Rosemary. When Rosemary becomes pregnant after a mousse-provoked nightmare of being raped by a beast, the Castevets take a special interest in her welfare. As the sickened Rosemary becomes increasingly isolated, she begins to suspect that the Castevets' circle is not what it seems. The diabolical truth is revealed only after Rosemary gives birth, and the baby is taken away from her. Polanski's camerawork and Richard Sylbert's production design transform the realistic setting (shot on-location in Manhattan's Dakota apartment building) into a sinister projection of Rosemary's fears, chillingly locating supernatural horror in the familiar by leaving the most grotesque frights to the viewer's imagination. This apocalyptic yet darkly comic paranoia about the hallowed institution of childbirth touched a nerve with late-'60s audiences feeling uneasy about traditional norms. Produced by B-horror maestro William Castle, Rosemary's Baby became a critically praised hit, winning Gordon an Oscar for Best Supporting Actress. Inspiring a wave of satanic horror from The Exorcist (1973) to The Omen (1976), Rosemary's Baby helped usher in the genre's modern era by combining a supernatural story with Alfred Hitchcock's propensity for finding normality horrific. ~ Lucia Bozzola, Rovi
News & Interviews for Rosemary's Baby
Critic Reviews for Rosemary's Baby
Audience Reviews for Rosemary's Baby
An excellent and unsettling supernatural thriller in which paranoia grows in a maddening crescendo, and the most ironic is how Polanski made Repulsion and this film (both about rape and women getting horrendously abused) before being convicted of raping a minor years later.
Carlos Magalhães
Super Reviewer
A taut psychological thriller with visceral cinematography and a haunting atmosphere. One of the bests in its' genre.
Kase Vollebregt
Super Reviewer
Mrs. Gilmore: We're your friends, Rosemary. There's nothing to be scared about. Honest and truly there isn't!  "Pray for Rosemary's Baby." I've seen Rosemary's Baby twice now and with a second viewing, the film was easily able to reinforce it's elite status among the horror classics. This movie is easily in the top 5 of all-time horror films. It's up there with Psycho, The Omen, and Halloween. It's a masterpiece of suspenseful horror, where the scares aren't in your face with jump scares and tons of blood. This movie relies more on atmosphere, music, and pure creepiness, which makes for a more interesting time then the standard horror film.  Rosemary moves into a new apartment in New York with her actor husband. They are planning on trying to have a baby soon, and then begin to get close with their neighbors. A young woman who Rosemary had met in the laundry room, that lived with the old neighbors kills herself. When Rosemary becomes impregnated but doesn't remember the night, she begins wondering how she came to be pregnant. Then she begins to get terrible pains and the doctor she was recommended isn't doing much to help her. All of this leads up to an ending that makes for one of the best endings in horror history. It was heavily influential for movies like The House of the Devil. Rosemary's Baby has obviously been classified as one of horror's most influential and classic films. I am still a believer that this is Roman Polanski's greatest film. Also Mia Farrow makes for a perfect paranoid, pregnant mother. It's up there with the best work of her career as well. Everything in this movie is just about perfect. It's a beautiful film. The cinematography is wonderful, the score is perfect, and the atmosphere over powering. It's really a film buffs horror film, much in the vain of say, The Shining. This is a must watch classics and a film that has stood the test of time. Rosemary's Baby showed the world that you could really on purely atmosphere and still bring the scares, just not in typical ways. It's truly one of my favorite horror films of all-time and just a masterpiece of cinema period. 
Melvin White
Super Reviewer
Rosemary's Baby Quotes
| | |
| --- | --- |
| Rosemary Woodhouse: | Its going to be a very special party. You have to be under sixty to get in. |
| Guy Woodhouse: | Well... for a minute there I thought I wasn't going to make it! |
| Rosemary Woodhouse: | Oh, you'll make it all right. You can be bartender. |
| | |
| --- | --- |
| Roman Castevet: | Rock him. |
| Rosemary Woodhouse: | You're trying to get me to be his mother. |
| Roman Castevet: | Aren't you his mother? |
| | |
| --- | --- |
| Rosemary Woodhouse: | What have you done to it?! What have you done to its eyes?! |
| Roman Castevet: | He has his father's eyes. |
| Rosemary Woodhouse: | What are you talking about? Guy's eyes are normal. What have you done to him, you maniacs?! |
| Roman Castevet: | Satan is his father, not Guy! |