Rough Riders' Round-up
(1939)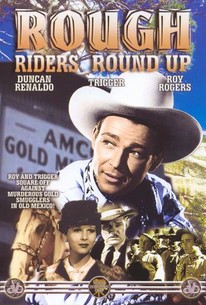 AUDIENCE SCORE
Critic Consensus: No consensus yet.
Rough Riders' Round-up Photos
Movie Info
Hot on the heels of Frontier Pony Express came the equally exciting Roy Rogers vehicle Rough Riders' Roundup. In the first film, Rogers was an express rider during the Civil War era; in the second, he's a veteran of the Spanish American war (ubiquitous fellow, isn't he?) With several of his fellow Rough Riders, Rogers joins the Texas border patrol, where he almost immediately clashes with a villain named Arizona (William Pawley). While maintaining a respectable facade, Arizona and his minions rob the stagecoaches and express offices, divesting the local prospectors of their hard-earned gold. With the help of grizzled old sidekick Rusty (Raymond Hatton)-not to mention the rest of the Rough Riders-Rogers crushes Arizona's operation once and for all. The film boasts two leading ladies: Rogers' usual vis-a-vis Mary Hart, and former silent star Dorothy Sebastian, here making a comeback attempt.
Critic Reviews for Rough Riders' Round-up
All Critics (1) | Fresh (1) | Rotten (0)
The exciting B-Western is filled with plenty of action (chases, fights and shoot-outs) and fortunately only a few songs from the singing cowboy.
Audience Reviews for Rough Riders' Round-up
½
This film is from the Mill Creek Collection of 20 Roy Rogers Films. Theodore Roosevelt has given Roy a recommendation after serving as a rough rider in Cuba. Roy has been sent to join the boarder Patrol, to keep Mexicans from crossing the boarder. My how history has repeated itself. Mean while a group of bandits lead by Arizona Jack are robbing ranches and stages posed as Mexicans and there hideout is south of the boarder. There final mistake is to attempt to steal $100,000 in gold which on today's market would be 5 million. Movie was filmed in 1939 and price of gold was 34.42 an oz. We also have a young 20 year old girl who has run away of course to the bad guy. Funny statement from father when he confronts the guy. "I know you made love to my daughter". in 1936 wow WHAT A STATEMENNT. You can watch this film for free on IMDB.com. Film quality from Mill Creek was very poor. Not the Best Roy Rogers Movie I have Seen. 2 1/2 stars
Bruce Bruce
Super Reviewer
Rough Riders' Round-up Quotes
There are no approved quotes yet for this movie.