Roxie Hart
(1942)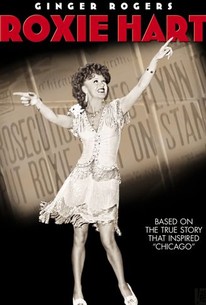 Movie Info
Based on the play +Chicago, Roxie Hart is a short-but-sweet satire of highly publicized court trials. Ginger Rogers plays showgirl Roxie Hart, whose no-good husband kills a man and insists that Roxie take the blame, since juries seldom send a woman to the chair. She agrees, figuring that the publicity will be beneficial to her career. Roxie's case is taken by grandstanding attorney Adolphe Menjou, who regards the sacred halls of justice as his own three-ring circus. George Montgomery plays the reporter covering the trial, who falls in love with Roxie and eventually marries her after she dumps her cowardly hubby. Roxie Hart plays fast and loose with legal ethics, but is no less hilarious because of it. Some of the best moments belong to Iris Adrian, as an imprisoned "Bonnie Parker"-type killer who's jealous that Roxie is stealing all the headlines.
Critic Reviews for Roxie Hart
Audience Reviews for Roxie Hart
This movie is sensational, funny, and cool. I enjoyed it.
½
love old movies, love ginger rogers but this movie even if it is the basis for Chicago is flat footed and dull
Roxie Hart Quotes
There are no approved quotes yet for this movie.