Royal Flash
(1975)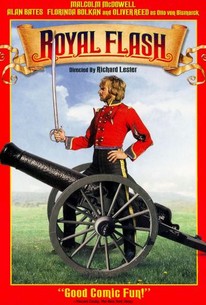 AUDIENCE SCORE
Critic Consensus: No consensus yet.
Movie Info
Novelist George MacDonald Fraser penned the script for this swashbuckling, picaresque adventure tale. The story is based on one of the books in his "Harry Flashman" series, loose sequels to "Tom Brown's Schooldays" that followed that story's central bully character through his checkered post-graduate military career. Malcolm McDowell plays Captain Harry Flashman, a cowardly, lascivious poseur who desperately seeks entry into high European society. Recognizing an opportunity to advance their own sinister political agendas, scheming Otto Von Bismarck (Oliver Reed) and Rudi Von Sternberg (Alan Bates) convince Flashman to masquerade as a Prussian noble and marry a beautiful duchess (Britt Ekland), a flawed plan to which Flashman agrees. Inevitably, the transparent ruse is discovered, and Flashman is forced to try to escape across 19th century Europe, narrowly missing one disaster after another and experiencing first-hand some of history's most momentous events. Director Richard Lester and Fraser used similar baroque settings, tongue-in-cheek characterizations, elaborate stunts and breakneck pacing for The Three Musketeers (1973) and its sequel, The Four Musketeers (1974) with similar efficacy. Fraser would try again with analogous material three years later with Crossed Swords (1978), a lavish version of The Prince and the Pauper by Mark Twain. ~ Karl Williams, Rovi
Critic Reviews for Royal Flash
All Critics (3) | Fresh (2) | Rotten (1) | DVD (1)
[Richard] Lester takes us out of this closed, hostile, and serious world, encouraging us to live. [Full Review in Spanish]
A final outburst of the style of filmmaking Richard Lester was largely responsible for creating.
Audience Reviews for Royal Flash
½
A damn good romp, what.
Marcus Woolcott
Super Reviewer
Malcom McDowell and Olver Reed, now theres a comedic duo. Really enjoyed this comedy from 1975. A little surprised more people havent seen in it, given the quality. Has a fairly complex plot, but keeps the laughs in regular supply. Several bad ass sword fighting scenes. Malcolm McDowell is really funny throughout. Alan Bates also definently has his moments. Florinda Bolkan is hot. All in all a really good time. More people need to see this one.
Ed Fucking Harris
Super Reviewer
½
'Royal Flash' Shows Spark Another slow starter, and with a treadbare plot, but still provides enough entertainment to forgive its flaws. Who wouldn't enjoy a roguish Malcolm McDowell attempting to impersonate a German duke against his will after being kidnapped by a sinister Oliver Reed? Highlight is a side-splitting attempted rescue of the real duke held prisoner in a castle dungeon which includes a memorable comedic swordfight in the spirit of the Elwes vs. Patinkin throwdown later exhibited in The Princess Bride.
Doctor Strangeblog
Super Reviewer
Royal Flash Quotes
There are no approved quotes yet for this movie.