Royal Wedding
(1951)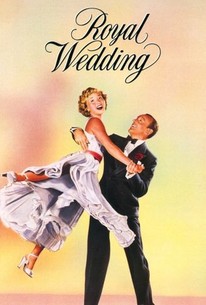 TOMATOMETER
AUDIENCE SCORE
Critic Consensus: Vintage MGM musical stuff, characterized by Stanley Donen's fleet direction and some amazing dance performances from star Fred Astaire.
Movie Info
Two real-life events were incorporated into the plot of the 1951 MGM musical Royal Wedding. One, the marriage of Fred Astaire's sister Adele to a British nobleman had occurred years earlier; the other, the wedding of England's Princess Elizabeth and Prince Philip was only four years in the past. MGM would probably have gotten Royal Wedding out closer to the Elizabeth-Philip nuptials, but the picture had leading-lady problems; every girl who was cast either became pregnant, ill, or otherwise unavailable. Finally, Jane Powell was cast as the sister and partner of American-entertainer Fred Astaire. The plot has Astaire and Powell heading to Merrie Olde England to perform at the palace. Once they've arrived, Powell breaks up the act when she falls in love with blueblooded Peter Lawford. Astaire himself finds romance in the form of Sarah Churchill (daughter of Sir Winston), and the four happy campers gleefully attend the titular Windsor Castle wedding. Also in the cast is Albert Sharpe, fresh from his Broadway triumph in Finian's Rainbow, and Keenan Wynn, hilarious as twin cousins. The plot is so light that it threatens to float away at times, but Royal Wedding sticks in the memory thanks to its first-rate musical numbers. The Astaire/Powell duets are entertaining enough; the real magic, however, occurs in Astaire's two solos: the hat-rack duet and the now-legendary tap-dance on the ceiling (even knowing how this cinematic legerdemain was accomplished does not detract from its brilliance and virtuosity). Because it has slipped into public domain, Royal Wedding is one of the most easily accessible of all the Fred Astaire musicals. ~ Hal Erickson, Rovi
Critic Reviews for Royal Wedding
Audience Reviews for Royal Wedding
½
If you love silly love stories with song and dance numbers and a happy ending, you'll like this movie, not love it, but like it. Personally I was bored with all the dancing, and the story didn't keep my interest, but it's not that bad.
I wasnt crazy about Jane Powell's singing but hey! its fred Astaire. DANCING ON THE CIELING! nothing can go wrong. His girl is not that pretty though...
Morgan Salem
Super Reviewer
½
I think MGM musicals are delightful little jewels, no matter how formulaic they can get. And Stanley Donen is the king of all things singing and dancing. So naturally this was going to be good before I even saw it. The dancing is top notch and Jane Powell is so adorable even though I don't like her voice. And Fred Astaire is ageless, floats with a grace I've never seen on anyone else. It's definitely not the best musical I've ever seen but it's thoroughly enjoyable (even though the girl Astaire got with at the end is ugly...) escapsim!
Jennifer Xu
Super Reviewer
Royal Wedding Quotes
There are no approved quotes yet for this movie.