Rubber
(2011)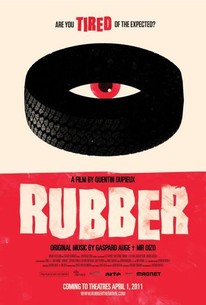 TOMATOMETER
AUDIENCE SCORE
Critic Consensus: A clever premise gets plenty of comic blood and violence, but its hampered by some questionable storytelling techniques from director Quentin Dupieux.
Movie Info
RUBBER is the story of Robert, an inanimate tire that has been abandoned in the desert, and suddenly and inexplicably comes to life. As Robert roams the bleak landscape, he discovers that he possesses terrifying telepathic powers that give him the ability to destroy anything he wishes without having to move. At first content to prey on small desert creatures and various discarded objects, his attention soon turns to humans, especially a beautiful and mysterious woman who crosses his path. Leaving a swath of destruction across the desert landscape, Robert becomes a chaotic force to be reckoned with, and truly a movie villain for the ages. Directed by legendary electro musician Quentin Dupieux (Steak, Nonfilm), aka Mr. Oizo, RUBBER is a smart, funny and wholly original tribute to the cinematic concept of "no reason." -- (C) Magnet
News & Interviews for Rubber
Critic Reviews for Rubber
Audience Reviews for Rubber
Through binoculars, a band of spectators in the desert watch the story of a sentient telekinetic tire who kills, for no reason. Strange, meta-clever and pretty damn funny, if you get the joke (which admittedly demands an odd and rare sense of humor).
[img]http://images.rottentomatoes.com/images/user/icons/icon14.gif[/img]
Directors Cat
Super Reviewer
Average comedy horror about a killer tire. Yeah...You heard that right. Other than its ridiculous premise, this is a slow paced film that is pretty fun, and definitely not one to take seriously. The concept is very silly, but if you like a different type of horror comedy, then this is the type of film that you should check out. Acting wise, the cast are pretty good here, and are overall funny. However, I did feel that this film could have been better, as this is such a unique, and ridiculous Director Quentin Dupieux direction is good for a low-budget comedy horror flick, and it works most of the time. Even if the film is good, with a premise like this, the film had so much more potential. The biggest problem of the film is that it is slow, and it takers quite some time to get to the point that certain viewers may become uninterested in the film. Despite its slow pace, I liked the idea of the film, and thought it was one of the better comedy horror films in recent memory. Sure people may think that it's a stupid premise for a film, but that's the whole point. This film is stupid on purpose. Rubber is bizarre, different and in many ways is bold to try and do something totally different. The film works if you enjoy something totally new, original and over the top. This film is fun from start to finish, and though slow is very well done and you can't help but admit that it's ridiculous plot ideas are very amusing. If you're in the mood for a different style of comedy horror flick, then give Rubber a shot. Not a perfect film by a long shot, but definitely worth seeing if you enjoy low budget horror comedy yarns.
Rubber Quotes
| | |
| --- | --- |
| Lieutenant Chad: | Lieutenant Chad: In the Steven Spielberg movie E.T., why is the alien brown? No reason. In Love Story, why do the two characters fall madly in love with each other? No reason. In Oliver Stone's JFK, why is the President suddenly assassinated by some stranger? No reason. In the excellent Chain Saw Massacre by Tobe Hooper, why don't we ever see the characters go to the bathroom or wash their hands like people do in real life? Absolutely no reason. Worse, in The Pianist by Polanski, how come this guy has to hide and live like a bum when he plays the piano so well? Once again the answer is, no reason. I could go on for hours with more examples. The list is endless. You probably never gave it a thought, but all great films, without exception, contain an important element of no reason. And you know why? Because life itself is filled with no reason. Why can't we see the air all around us? No reason. Why are we always thinking? No reason. Why do some people love sausages and other people hate sausages? No fucking reason. |
| | |
| --- | --- |
| Film Buff Charley: | Her ass is not that great, but I understand. |
| Film Buff Ethan: | You're hard to pleased. It is fine with me. |
| | |
| --- | --- |
| Woman: | You know you're not allowed to film the film. That is forbidden by law. |
| Dad: | It is? |
| Woman: | Yeah, they'll put you in jail for that. |
| | |
| --- | --- |
| Man in Wheelchair: | Its not the end! He's be reincarnated as a tricycle! Lol |
| Man in Wheelchair: | It's not the end! He's be reincarnated as a tricycle! |