Rubin and Ed
(1991)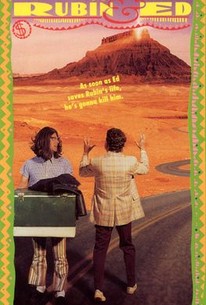 AUDIENCE SCORE
Critic Consensus: No consensus yet.
Movie Info
Rubin & Ed is Trent Harris' off-the-wall buddy movie about two mismatched geeks on a quest to bury a frozen cat. Rubin Farr (Crispin Glover) is a shy, reclusive loner who lives in his mother's hotel. He'd much rather sit in his bedroom listening to Mahler, playing with his squeaky-mouse, than go outside. His mother has other plans, however, and one afternoon she decides to pull the plug on Rubin's eccentric behavior. She demands that he go out and make at least one friend. Rubin capitulates, and after a somewhat half-hearted search, he finds Ed Tuttle (Howard Hesseman, in one of his best performances). Ed is a divorced, middle-aged loser enrolled in a self-help/ get-rich-quick organization called PPR: Positive Power through Real Estate. Ed agrees to have dinner with Rubin and his mother if Rubin agrees to attend a PPR training seminar. All goes as planned for both, until Ed opens the freezer and discovers Rubin's dead cat. The unlikely pair then embarks on an hallucinatory quest through the Utah desert in order to find the perfect spot to bury Rubin's cat. Though at first mutually disgusted by each other, Rubin and Ed eventually learn how to become friends. Karen Black is superb as Ed Tuttle's annoying ex-wife Rula, as is Michael Greene as PPR magnate Mr. Busta.
Critic Reviews for Rubin and Ed
There are no critic reviews yet for Rubin and Ed. Keep checking Rotten Tomatoes for updates!
Audience Reviews for Rubin and Ed
A brilliantly wacky movie. I absolutely love it. Crispin plays a charmingly weird guy you can't help but love, and he's so funny too. The whole movie is full of zany comedy. One of my favourite movies of the 90s, I highly recommend it.
½
This definitely fits in with the zany comedy trend of the late 80s to early 90s, but it's not hard to see why it's unknown. It really is strange and odd through and through, and whereas someone like me embraced that aspect, the general public may dismiss it as stupid. Stupid is quite far from what this film is, I would say brilliant. The humor is just so odd and genius and it also says alot about human nature. It's really sad that this hasn't seen a DVD release yet, or at least if it has it's out of print. I demand a special edition with commentary!
Patrick Dolan
Super Reviewer
Rubin and Ed Quotes
There are no approved quotes yet for this movie.